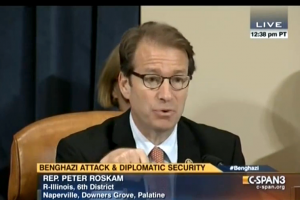 When Republican Illinois Rep. Peter Roskam had the floor at Thursday's Benghazi hearing, he used his time to accuse former Secretary of State Hillary Clinton of trying to capitalize on the Sept. 11, 2012 attack for political gain. As evidence, the congressman cited several emails and correspondences between Clinton, adviser Sidney Blumenthal, and others in relation to a Washington Post article.
"I want to direct your attention," said Roskam, "to something that hasn't really been discussed. There's been this explicit criticism of Republicans being partisans today, but I want to direct your attention to what is actually going on with you and your team." Specifically, the congressman was interested in a document put together by Clinton adviser Jake Sullivan called the "Tick-Tock on Libya" memo, which he describes as being "really well put together."
After quoting at length from Sullivan's memo, subsequent correspondence and the WaPo article, Roskam asked Clinton pointedly: "Isn't it true that you'd been thinking about getting political credit, actually, for months on this?"
In response, the Democratic presidential candidate laughed and said "no." Clinton noted that, since Roskam was quoting at length from the WaPo article, journalists don't always get their stories right. The congressman disagreed.
What resulted was about 10 minutes of constant interruptions, back-and-forths and bantering between Roskam and Clinton over whether or not the former Secretary of State had tried to take credit for work that — though she was involved — had been accomplished by the State Department, the White House, the Department of Defense and several other governmental entities following Benghazi.
Check out the clip above, via C-SPAN.
[Image via screengrab]
— —
>> Follow Andrew Husband (@AndrewHusband) on Twitter
Have a tip we should know? tips@mediaite.com