GOP Senator Reacts To Movie Theater Shooting: 'This Isn't An Issue About Guns'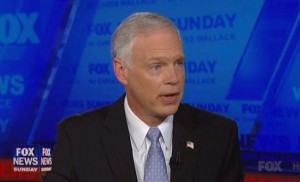 Democratic senator Dianne Feinstein and Republican senator Ron Johnson squared off over gun control in the context of last week's shooting at a movie theater in Aurora, Colorado. Feinstein argued that there should be some kind of limit on high-capacity magazines, while Johnson continued to insist that this is not an issue about guns, but about "sick, demented individuals" who go out and kill people.
RELATED: Piers Morgan Clashes With Guest Over Whether It Is Appropriate Time To Discuss Gun Control
Feinstein, a proponent of the assault weapons ban, said that since it expired, 650 people have been shot and 300 were killed from assault weapons. Wallace turned to Johnson and asked him if Holmes has a constitutional right to buy an AR-15 assault rifle and a high-capacity magazine. Johnson said that Holmes is nothing more than a "sick, demented, evil individual" who could have easily obtained some other weapon to kill people with.
"I don't think society can keep sick, demented individuals from obtaining any type of weapon to kill people. I mean, somebody who wants to purposely harm another individual is going to find a method of doing it… This isn't an issue about guns, this is really just an issue about sick, demented individuals."
Wallace pressed Johnson on what people can do to protect themselves from crazy people like Holmes. Johnson admitted he didn't have an easy answer for that, though he did say that "we should be examining our education system" and "reinstill values in our children."
While Feinstein has been a strong voice on the left for gun control, Wallace pointed out that many Democrats have not been that vocal about this issue, and asked the senator why this is the case. Feinstein pointed to the gun lobbys "pouring money" into campaigns to support pro-gun politicians, and questioned why any law-abiding citizen would need high capacity magazines in the first place.
Johnson rebutted by saying that Feinstein was really talking about semi-automatic weapons, which he claimed people use when they go hunting. He insisted once again that "this is not really an issue of guns" and more about the kind of person who would be sick enough to want to kill someone in the first place.
Watch the video below, courtesy of Fox:
—–
Follow Josh Feldman on Twitter: @feldmaniac
Have a tip we should know? tips@mediaite.com
Josh Feldman - Senior Editor