Gowdy Tells GOP Not to Fundraise Off Benghazi Just as GOP Fundraises Off Benghazi
Representative Trey Gowdy (R-SC) told a Morning Joe panel Wednesday morning that the GOP should not use the Benghazi Select Committee — of which he was just appointed chairman — as a fundraising tool. But as he spoke, a National Republican Campaign Committee website was doing just that.

"I have never sought to raise a single penny on the backs of four murdered Americans," Gowdy said on MSNBC. "There are, even in a culture of hyper-partisanship, certain things that ought to be above politics, like the murder of our four fellow Americans."
But BenghaziWatchdogs.com, an NRCC-run website, proclaims, "House Republicans will make sure that no one will get away from Gowdy and the Select Committee. This is going to be a national effort for a national investigation. Will you automatically add your name today to join us and become a Benghazi Watchdog?"
Adding your name takes you to a page asking for donations: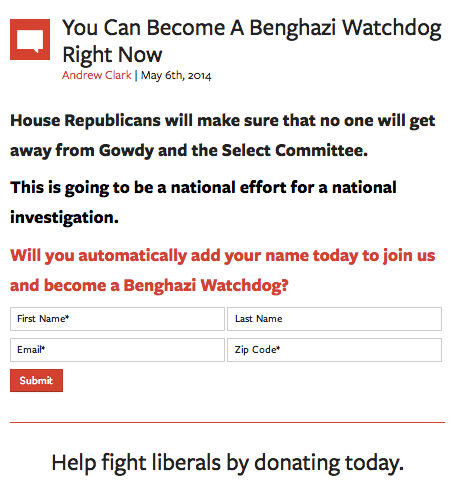 According to Huffington Post's Sam Stein, an email from the site went out just half an hour before Gowdy appeared on Morning Joe.
The NRCC stood by the site. "The Obama administration has not been honest with the American people with regards to the security failures in Benghazi, which left four Americans dead," an NRCC spokesperson told POLITICO. "Our goal is to hold Democrats in Congress accountable who vote against creating the select committee on Benghazi and who continue to try to sweep this controversy under the rug."
Watch Gowdy's appearance below, via MSNBC:
[h/t Sam Stein]
[Image via screengrab]
——
>> Follow Evan McMurry (@evanmcmurry) on Twitter
Have a tip we should know? tips@mediaite.com