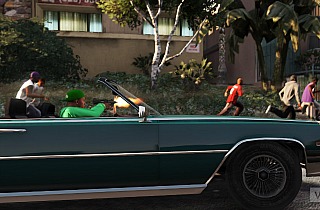 As predictable as the sunrise, the release of a new installation in the nearly two-decade-old videogame series Grand Theft Auto has elicited overwrought predictions of the imminent collapse of Western civilization from members of the media. Since the inception of the series in 1997, the games have inspired failed predictions of a nightmarish future wherein youth would be unable to discern where reality begins and the in-game world ends. While these predictions have failed to materialize, this track record of intellectual bankruptcy has not dissuaded the most reckless commentators in American society from repeating these baseless charges.

"I'm not one to get in there and say monitor everything, but if this indeed is a strong link, right, to mass killings, then why aren't we looking at frequency of purchases per person, and also how often they're playing, and–maybe they time out after a certain hour," Fox News Channel host Elisabeth Hasselbeck submitted on Tuesday in the wake of the mass shooting at the Washington Navy Yard.
She insisted that the shooter who allegedly enjoyed playing videogames, Aaron Alexis, may have been moved to his actions in part by his enjoyment of those games. This, Hasselbeck insisted, is reason enough to institute a government-run inspections regime to monitor game sales. She made these comments after insisting that the commentary in the media on the shooting has focused on spreading "blame where possibly it doesn't belong," namely firearms.
"If you're a parent and you allow your son or daughter to watch this, even if they're beyond 18-years-old, you're a lousy parent in my opinion," bellowed MSNBC host Ed Schultz while holding a copy of the latest Grand Theft Auto. "If you think as a parent this is good for your kid, you're wrong. It's not." He added that game players and their guardians "play a role" in future mass shootings.
Even in straight news reports, an obligatory nod towards the scourge of Grand Theft Auto is practically required. MSNBC anchor Craig Melvin, interviewing the grief-stricken brother of Newtown massacre victim on Wednesday, asked if he thought video games are linked to violence. "That has a lot to do with it," the teenager drafted into the pro-gun control movement replied.
None of this is responsible commentary or journalism, but it is predictable. This kind of fallacious reporting occurs every time a new Grand Theft Auto game is released.
"[T]eenagers, and even some adults who play the game, may not be able to separate fantasy from reality and such a video game might encourage them to act out their fantasies," read a December 15, 2001 front page report, not an editorial, in Connecticut's The Hour newspaper upon the release of Grand Theft Auto 3 for the Play Station 2.
"The theme of hurting other people and disrespecting women and people of authority is disturbing," read a quote from Norwalk Hospital child and adolescent psychologist Dr. George Uy in that same 2001 report. "You get points for doing certain things. You should get points for doing positive things."
"The purpose of the game is to perpetrate crime," said Dr. David Walsh from the National Institute on the Media and the Family on NBC's Today on that same day in December, 2001. "You advance in the game by getting more proficient at crime. Now, that's a game, you know, that I really have a — have problem with and certainly not appropriate for children."
Highly publicized incidences of violence inspire journalists to dig into the studies which suggest that an increase in violent tendencies can be linked to violent videogames. Often, those stories suggest that the evidence is "inconclusive," when in fact it rather conclusively debunks the notion that videogames inspire people with violent impulses to act out more than other stimulative experiences like movies, television, music, or art.
"This casting about for circumstances outside the individual that allegedly propel him to become something that he wasn't just doesn't even make common sense," clinical psychologist Dr. Stanton Samenow said in December, 2012, the last time the media went searching for a scapegoat upon which to lay the blame for the violent actions of mentally unstable people.
"What I hope people realize is that there is no data to support the simple-minded concerns that video games cause violence," Lawrence Kutner, co-author of a book dispelling notions that videogames play a role in violent outburst, told Reuters in March. His book, summarizing years of sociological studies on children and teenagers, surmises that, while his book is not "pro-game," it is pro-evidence. And the evidence does not suggest that there is a link between game playing, even excessive game playing, among well-adjusted youths and violent behavior.
"The opposition to gaming springs largely from the neophobia that has pitted the old against the entertainments of the young for centuries. Most gamers are under 40, and most critics are non-games-playing over-40s," read a study published in The Economist in 2005 on the subject of the prospect of violence inspired by the release of Grand Theft Auto: San Andreas in 2004.
Still more compelling is the fact that homicides over the last twenty years have steadily decreased even as these games' popularity has exploded.
"Compared with 1993, the peak of U.S. gun homicides, the firearm homicide rate was 49% lower in 2010, and there were fewer deaths, even though the nation's population grew," reads a study via the Pew Research Center. "The victimization rate for other violent crimes with a firearm—assaults, robberies, and sex crimes—was 75% lower in 2011 than in 1993. Violent non-fatal crime victimization overall (with or without a firearm) also is down markedly (72%) over two decades."
Baseless as the claims that videogames inspire violence may be, there will always be thoughtless commentators who disregard the evidence in favor of a righteous emotional outburst. It is a bipartisan phenomenon worthy of derision. The terrifying fact of the matter is that senseless violence is just that.
[Photo via Rockstar Games]
— —
> >Follow Noah Rothman (@NoahCRothman) on Twitter
Have a tip we should know? tips@mediaite.com