Greenwald Slams Snowden Espionage Charges: 'Extreme Excess,' 'Vindictive Mentality' From Obama Admin.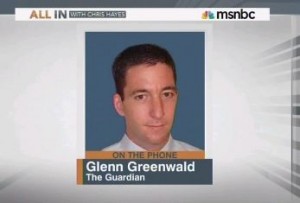 Guardian journalist Glenn Greenwald tonight reacted to the new development today that federal prosecutors are charging NSA whistleblower Edward Snowden with espionage and other charges. He told MSNBC's Chris Hayes that it's not surprising that the Obama administration would, once again, engage in severe "overcharging" when what Snowden did, as Greenwald argued, was "not espionage in any real sense of the word."
Greenwald noted that Snowden didn't work for a foreign government, he didn't provide information directly to America's enemies, and he didn't sell any top-secret information, so the espionage charge seems extreme to him. However, he was not surprised that the Obama administration has used the Espionage Act for the seventh time to go after a government whistleblower.
Hayes acknowledged that the act is "pretty terrible," but asked Greenwald that even if you believe there was an enormous net benefit to what Snowden released, why there shouldn't be some official "recriminations" for people who violate the "basic norms of the institution." Greenwald made it clear there is absolutely no one who believes that Snowden shouldn't be charged, because even Snowden himself admits he violated the law and expected to be charged with something.
However, Greenwald argued the main problem is the "extreme zealousness" and "overcharging" the Obama administration has engaged in with whistleblowers, bashing their "extreme excess" and "vindictive mentality" towards anyone who attempts to make them just a little more transparent. He also accused Obama of hypocrisy, since there have been a number of leaks that have politically benefitted Obama, and "none of them have been charged or indicted."
Watch the video below, courtesy of MSNBC:
—–
Follow Josh Feldman on Twitter: @feldmaniac
Have a tip we should know? tips@mediaite.com
Josh Feldman - Senior Editor