Greta Van Susteren Sits Down With New BP CEO Bob Dudley After Transition Announced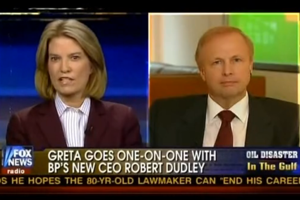 While his predecessor, Tony Hayward tried to clear his image in America in his first interview since announcing his departure from the company, incoming BP CEO Bob Dudley wet his feet in the American media pool last night in an interview with Greta Van Susteren, where he expressed optimism in the clean-up operation and the belief that the open well is now probably capped permanently.
Van Susteren promised to not "clobber you over the head" about BP's follies, so it wasn't at all a combative interview. Rather, Van Susteren gave Dudley the opportunity to give an update on the state of the cleanup operation, future plans to keep the leak from reopening, and how the transition process is going for him. Dudley explained that while "pressure is slowly rising" on the cap, it is rising at an expected rate, and the problem should be solved when the relief wells are finally completely. "My belief," he said, "is that we will not see any more oil." He also explained that the oil sheens on the surface seemed to be evaporating much faster than initially expected, but did not clearly answer questions about oil slicks below the surface.
Asked about his relationship with Hayward, he said the current CEO has been "incredibly gracious" to him, that he felt he "was the captain of the ship during an accident" and, while he was "deeply saddened," he knew he had to step aside and "that is the measure of the man."
The interview below:

Have a tip we should know? tips@mediaite.com