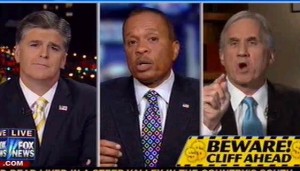 On Sean Hannity's show tonight, Juan Williams and David Limbaugh faced off over the fiscal cliff negotiations and who is being more inflexible and unwilling to compromise. Limbaugh and Hannity said President Obama is being the more stubborn one, while Williams found it amazing that anyone could think the Republicans are being anything but inflexible on the deal.
RELATED: Gov. Jindal Warns Of Poor 'Political Positioning': Headlines Would Indicate GOP 'Fighting To Protect The Rich'
Limbaugh criticized Obama for posturing rather than negotiating, saying that the "real fiscal cliff is national bankruptcy" and the first cliff is "preferable" to accepting any deal offered by the president. He said Obama is the real villain holding the middle class "hostage," not the Republican party. Williams countered that the GOP is being more stubborn and inflexible, citing Obama's offer to cut almost a trillion in spending.
Williams told Limbaugh and Hannity that if they're serious about dealing with the debt they need to acknowledge raising taxes on the rich might be a good thing. Hannity confronted Williams about Obama being unwilling to compromise, to which Williams kept insisting it is the GOP prioritizing the security of the wealthy over a good deal. Limbaugh dismissed Williams' claim as "not intellectually honest," telling an incredulous Williams that the rich already pay an incredibly high tax rate.
Williams insisted that Obama is pushing for gradual budget cuts, and observed that the rich people are just exploiting tax loopholes and "tra-la-la'ing" while the country suffers. Limbaugh railed into Williams, telling him that he is "disgusted by all these euphemisms and lies," particularly referring to legitimate tax deductions as loopholes. Hannity challenged Williams' argument on taxing the rich, pushing him to explain what is considered "fair" for rich people to pay.
Limbaugh said that instead of acquiesing to Obama on taxes, the Republicans ought to promote the free market and how that can help create prosperity. Williams pointed to tax rates under previous presidents and how it has correlated to the overall economy, and said what Limbaugh is arguing is "historically not true."
Hannity questioned why Obama criticized the huge debt under George W. Bush as "unpatriotic," but a bigger debt today isn't a bigger problem to the president. He asked when the Democrats plan on addressing their own "reckless spending." Williams said there should be some spending in order to stabilize the economy, while Limbaugh insisted that "government spending does not cause growth."
Watch the full segment below, courtesy of Fox News:
—–
Follow Josh Feldman on Twitter: @feldmaniac
Have a tip we should know? [email protected]
Josh Feldman - Senior Editor