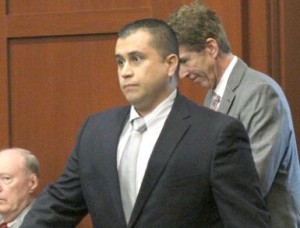 George Zimmerman is back in the news, and this time he's suing NBC for airing a misleading edit of a 911 phone call he made the night of Trayvon Martin's death. The edited phone call made it seem like Zimmerman purposefully highlighted the fact that Martin was black, when in fact, he was prompted by the dispatcher to describe Martin's appearance. NBC launched an internal investigation, profusely apologized, and even fired individuals involved in the editing process, but Zimmerman is still filing a lawsuit against NBC alleging that he was made out to be a "racist and predatory villain" in order to "increase ratings."
RELATED: NBC News Admits 'Error' In Editing George Zimmerman's 911 Call, Apologizes
According to The Washington Post, Zimmerman is seeking damages from NBC correspondents Ron Allen and Lilia Rodriguez Luciano, and a reporter for an NBC affiliate in Miami.
Here is what Zimmerman alleges in the lawsuit:
"NBC News saw the death of Trayvon Martin not as a tragedy but as an opportunity to increase ratings, and so set about to create the myth that George Zimmerman was a racist and predatory villain…"

NBC "pounced on the Zimmerman/Martin matter because [the network] knew this tragedy could be, with proper sensationalization and manipulation, a racial powderkeg that would result in months, if not years, of topics for their failing news programs, particularly the plummeting ratings for their ailing 'Today Show,' " the suit alleges.
NBC released a statement responding to the lawsuit, saying that they did not intend to portray Zimmerman in a negative light.
—–
Follow Josh Feldman on Twitter: @feldmaniac
Have a tip we should know? tips@mediaite.com
Josh Feldman - Senior Editor