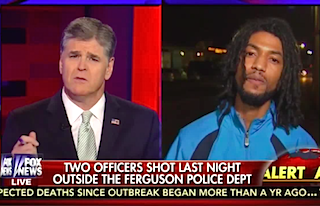 Following the shooting of two Ferguson police officers late last night, Fox News' Sean Hannity spoke live via satellite to a protester who witnessed the incident. And it went about as well as might be expected.
Right off the bat, Hannity laid into the man, Ivory Ned, for not initially denouncing the recent shooting and instead focusing on the killing of Michael Brown.
"People shouldn't be shooting cops, I don't hear you saying that, why not?" the host asked.
"I'm sure you didn't read the 87-page report from Eric Holder's Justice Department," Hannity told the man, getting the answer he clearly expected. He then proceeded to read portions of the report to Ned and said, "Let me translate that to you," before telling him he's wrong about the facts of the Brown case.
"It sounds like your head is a one-way street," the protester said in response, before sharing his point of view on the relations between cops and African-American citizens of Ferguson.
Later, Hannity's correspondent interviewed a woman who watched the shooting and said she "didn't feel anything" when it happened. Answering a question from Hannity, the woman said she believes "hands up, don't shoot," is an accurate description of what happened to Michael Brown, despite the Justice Department's conclusion otherwise.
When Hannity finally returned to the studio to interview Missouri's Lt. Governor Peter Kinder, the guest shook his head and said, "Ugh, that is terrible TV."
Watch video below, via Fox News:
[Photo via screengrab]
— —
>> Follow Matt Wilstein (@TheMattWilstein) on Twitter
Have a tip we should know? tips@mediaite.com