Hawaii Congresswoman Scolds O'Reilly For His 'Offensive' Statements On Asians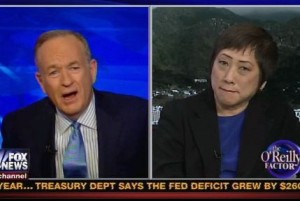 Last week, Bill O'Reilly sent producer Jesse Watters to Hawaii to report on why the Aloha State is so liberal. Following the report, O'Reilly admitted his surprise with how Democratic the state is, because "Asians people aren't liberal by nature" due to their being "more industrious and hard-working." O'Reilly's comments drew the attention and condemnation of Hawaii congresswoman Colleen Hanabusa, who appeared on O'Reilly's program tonight to criticize O'Reilly to his face.
RELATED: O'Reilly: 'Asian People Aren't Liberal By Nature' Because 'They're Usually More Industrious And Hard-Working'
Hanabusa (who, for some reason, wasn't looking into the camera) told O'Reilly she was very bothered by his commentary, saying that Asian residents of Hawaii, like the rest, value their elders and communities.
O'Reilly confronted Hanabusa over whether she had, in fact, seen the full segment on his program. He repeatedly asked her if she remembered seeing Watters in the video she watched, and when Hanabusa said she did not, O'Reilly concluded that she only watched the "edited" video on Media Matters and did not understand the context of his remarks. O'Reilly said his overall point was about the lazy attitude on display by many of the Hawaiians in Watters' report.
O'Reilly boasted that he knows Hawaii "as well as any journalist in this country," challenging Hanabusa on the fact that Hawaii has high numbers of state unemployment and people on food stamps. He also cited the rampant drug problem in Hawaii as another result of the state's "liberal culture." Hanabusa disputed O'Reilly's claims about drug use, though she did admit there is a drug problem in her state that she is trying to crack down on.
Hanabusa brought the conversation back to O'Reilly's Asian commentary, scolding him for stereotyping such a large community.
"When you characterize us in Hawaii, be aware that you're talking about a culture, a people who have managed to live together and work together… You are offensive to Asians. By making that statement, you are offensive to all of us who are Asian. We are not one kind of person. We want you to recognize that we are different."
Watch the video below, courtesy of Fox News:
—–
Follow Josh Feldman on Twitter: @feldmaniac
Have a tip we should know? tips@mediaite.com
Josh Feldman - Senior Editor