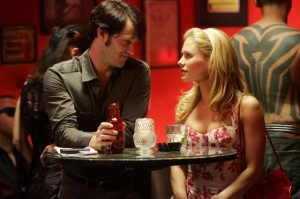 The cable network to show the most improvement in the ratings year-to-year is one that far less of America has in their cable line-up.
HBO, thanks to record-breaking ratings from their vampire drama True Blood and a new executive team, was up 41%, while "The Most Trusted Name In News" had the biggest drop.
THRFeed's James Hibberd has the full list, and some analysis.
USA's drama series hit factory grew along with "True Blood"-fueled pay network HBO (+41%), and BET (+23%), the latter boosted by its coverage of Michael Jackson's death. Food Network (+26%) cooked up a good year, "Jon & Kate" helped TLC (+18%) and sophomore hit "Sons of Anarchy" aided FX (+10%)
HBO's 41% increase still puts its total viewer average at #32 overall, with 693,000 viewers. But it represents a major victory for a network that has seen major executive shuffling since Chris Albrecht's exit in mid-2007. There were several changes during 2008, including bringing in Sue Naegle as the new President of HBO Entertainment in April 2008. The moves have certainly paid off.
Meanwhile the biggest fall year-to-year went to a cable news outlet – CNN. The network had its best ratings ever last year, when its 2008 election coverage produced big results. This year, down 30%, it ended as the 24th ranked cable channel. MSNBC finished one behind CNN, but only lost 12% of its total viewer average from 2008. And Fox News was up from last year, finishing 5th overall with an increase of 7%.
The top network this year was, once again, USA, the NBCU cable property that shows no signs of slowing down. It was up an additional 15% year-to-year.
Here are the top 10 cable networks of 2009, and the percentage they went up or down from 2008:
USA 3.278 million average viewers +15%
DISNEY 2.534 +6%
ESPN 2.253 +9%
TNT 2.254 +2%
FOX NEWS 2.210 +7%
TBS 1.838 -7%
NICK AT NIGHT 1.734 +2%
A&E 1.467 +8%
ABC FAMILY 1.353 +4%
FX 1.369 +10%
—–
» Follow Steve Krakauer on Twitter
Have a tip we should know? tips@mediaite.com