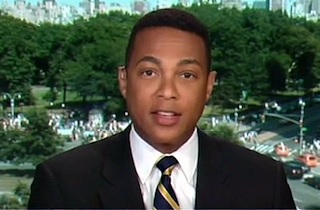 The genesis of the ongoing feud between Fox News anchor Gregg Jarrett and CNN anchor Don Lemon was Lemon's audacious expression of an opinion on the Michael Dunn "loud music" trial: namely that there ought to be a "Mind your business law," and that Michael Dunn should have followed it. Lemon echoed that sentiment when he tweeted, in response to Jarrett's criticism, to "Mind your business, old man." Lemon knows a thing or two about minding his own business.
In case you missed it, Don Lemon told CNN's audience that he was "pissed" at the Michael Dunn jury's inability to render a verdict on the charge of first degree murder in the killing of Jordan Davis, as they were still deliberating. Gregg Jarrett fired off a series of critical tweets at Lemon, and later explained to Megyn Kelly the role of a news anchor, which is apparently to accuse other news anchors of trying to inciting riots. Lemon tweeted at Jarrett to "Mind your business, old man," and Jarrett went on the radio to agree that Lemon was using racial code words, while also accusing Lemon of being "racially agitated."
Lemon's agitation, though, stemmed from the conduct of Michael Dunn, who shot and killed 17 year-old Jordan Davis in a dispute over loud music. Dunn claimed, at trial, that he saw Davis brandishing a weapon, but no weapon was found, and his girlfriend testified that he never told her about any weapon. He told viewers that he was outraged that jurors couldn't "come to some consensus on whether someone is guilty of murdering a teenager because his music was too damn loud? That is none of your business, if someone's music is too loud!" 
He later added that "there needs to be a Mind Your Business law that goes along with the Stand Your Ground law."
Lemon's point is sound. Benign, lawful behavior doesn't suddenly constitute a "reasonable" threat just because young black men are engaging in it, and if Michael Dunn had simply minded his own business, Jordan Davis would be alive today. To underscore that point, here's Don Lemon minding his own business about what young black men do:
Got that? If you're listening to loud rap music, that's cool, but if that music contains the n-word, or you listen to it while wearing low-slung pants, you are going to hear from Don Lemon.
Have a tip we should know? tips@mediaite.com