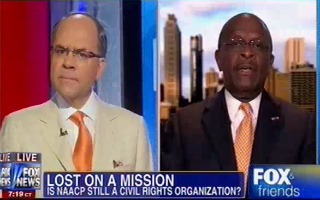 Businessman and former presidential candidate Herman Cain appeared on Fox & Friends on Friday where he levied the dubious accusation at non-Fox news networks that they had intentionally ignored the standing ovation that Mitt Romney received from audience at the National Association for the Advancement of Colored People on Wednesday. Cain said that the networks focused entirely on Romney's booing moment over the several moments of applause he also received. But is that claim true? Not even close.

RELATED: Megyn Kelly Panel Battles Over Whether Romney Planned On Getting Booed By NAACP
Cain told fill-in host Peter Johnson that he thought the NAACP who hosted Romney on Wednesday that, while he appreciates what the organization has done for civil rights over the decades, they have "lost their relevance."
Cain said that, while there are battles yet to be fought, the war on civil rights has been "won."
But perhaps the most demonstrably false claim that Cain made during this interview was that the news media exercised a "double standard" in their reporting of that speech.
"I watched briefly how some of the other networks treated that speech, and I, along with my staff, predicted that the boos were going to be the lead story and there were," said Cain. "They didn't talk about the standing ovation that he got at the end."
So, did other networks focus on Romney's booing moment to the exclusion of all else, including the standing ovation he received at the end? Of course not.
On the day of Romney's speech to the NAACP, MSNBC's anchors and pundit guests talked about the standing ovation 9 times on the 11th and again on the 12th during Morning Joe. Hosts like Andrea Mitchell, Ed Schultz (twice) and The Cycle host Steve Kornacki mentioned the ovation during their programs. Washington Post columnist Jonathan Capehart made a point of bringing up the ovation multiple times on several MSNBC programs including Andrea Mitchell Reports, Martin Bashir Live and Morning Joe. While some of the MSNBC hosts qualified the ovation as "respectful" or "obligatory," it did not go ignored.
CNN mentioned the ovation several times and on high profile programs like The Situation Room with Wolf Blitzer and Anderson Cooper 360. Even the hosts of ABC's The View, which often gets a bad rep from conservatives who are weary of the views of self-identified left-leaning hosts like Joy Behar and Whoopi Goldberg, talked about the standing ovation at length on their program the morning after Romney's NAACP speech.
When there is media bias, it is not only right but important to call out those media organizations that may be engaging in selective reporting. However, it is absolutely irresponsible to invent media bias where it doesn't exist.
Watch Herman Cain's interview via Fox News Channel:
> >Follow Noah Rothman (@Noah_C_Rothman) on Twitter
This is an opinion piece. The views expressed in this article are those of just the author.