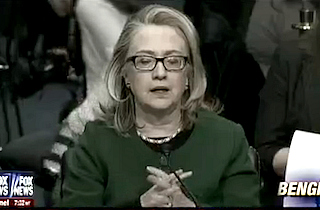 In Mediaite's weekly examination of the cable networks' coverage of Hillary Clinton — who, once again, does not hold office and is not currently in contention for one — Fox News has pulled ahead in the past two weeks, largely thanks to renewed attention on climate change.

Ha, no. Benghazi incited Fox News to cover Clinton — or as Steve Doocy calls her, "that woman" — fifty-six separate times in a seven day span, totaling 110 minutes' worth of coverage; Fox also seemed a bit put off by a report that Republican Wall Street donors put off by Chris Christie's bad stretch were looking to Clinton as an alternative. MSNBC was not far behind in the amount of time spent on Clinton, though the debate over at 30 Rock tended to focus on her still-hypothetical 2016 aspirations. Here, have some charts: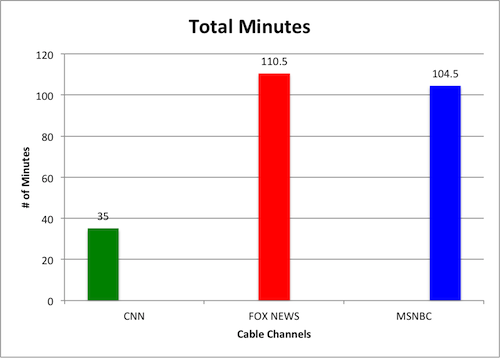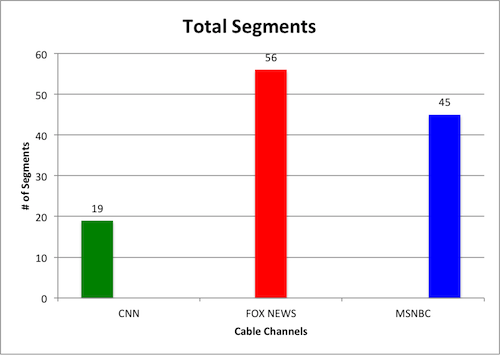 Those charts would look very different if Mediaite counted repeats (it doesn't). Fox ran its Thursday and Friday segments on Hillary and the fallout from the White House "Benghazi" email on an almost constant loop Saturday and Sunday; in fact, a TVEyes search for Clinton's name turned up 227 mentions on Fox News — many of them the same segments casting aspersions on Clinton's involvement in Benghazi, over and over again. So, the above charts don't really do justice to the amount of time Fox spent on Clinton last week.
This week's HillaryWatch Award, given for best reference to the absurdity of Clinton overkill while also participating in it, goes to MSNBC's Joy Reid, who pointed out during a segment on Clinton's poll numbers that, "She's not actually running for anything right now." That's what I've been saying!
Methodology: The study tracked cable news coverage from Monday, April 28 to Sunday, May 4, and counted any sustained discussion lasting more than thirty seconds and involving more than a passing allusion to Clinton; thus, a mention of Clinton during a Benghazi segment was not counted, but any examination of how Benghazi affected her 2016 chances was included. However, any on-screen graphic of 2016 poll numbers citing Clinton automatically counted as a segment. All repeats, teasers, and show intros were excluded.
Always-Depressing Disclaimer: there are 915 days until the 2016 election.
Previous Editions:
HillaryWatch: Fox Overdoses on State Dept. Gaffe
HillaryWatch: MSNBC Gets a Clinton Coverage Baby Bump
HillaryWatch: Take a Guess as to Why Fox Covered Clinton So Much
HillaryWatch: MSNBC Continues to Cover Clinton More than Other Two Networks Combined
HillaryWatch: Missing Plane Speculation (Mostly) Replaces Clinton 2016 Speculation
HillaryWatch: Not Even Missing Planes and Russian Tanks Can Tear MSNBC from Hillary
HillaryWatch: CNN Leads in Clinton Coverage, MSNBC Lays Off for a Change
HillaryWatch: Fox Couldn't Get Enough of Hillary Clinton Last Week
HillaryWatch: MSNBC Spent More Time on Clinton Than Fox and CNN Combined
HillaryWatch: Last Week Cable News Spent More Than 400 Minutes on Hillary Clinton
HillaryWatch: Last Week Cable News Devoted 80 Segments to Hillary Clinton
[Image via screengrab]
——
>> Follow Evan McMurry (@evanmcmurry) on Twitter
Have a tip we should know? tips@mediaite.com