Dean Apologizes to Vets, Not 'Right-Wing Nut Jobs,' for American Sniper Comments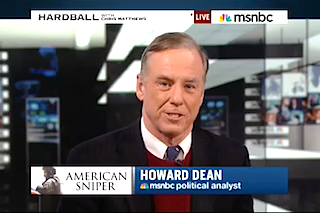 Ever since former DNC chairman Howard Dean referred to the millions of people going to see American Sniper as "very angry" members of the tea party on Bill Maher's show last Friday, he has been facing on onslaught of criticism from everyone from Fox News' Gretchen Carlson to actor Gary Sinise and everyone in between. On Tuesday evening, he used his appearance on MSNBC's Hardball to offer up an apology, with some major caveats.
RELATED: Howard Dean Calls American Sniper Audience 'Very Angry Men' — Empirical Data Proves Otherwise
Doing something he said he's "almost never done in politics," Dean said he wanted to "apologize" to the veterans. "I haven't seen the movie, and I think it was wrong," he said of his assessment.
"I make no apologies to the thousands of right-wing nut jobs who have Twittering me with nasty language, but I do apologize to the veterans. We owe them a lot and I think this movie was much more nuanced than I thought."
"To the people who tweeted me over the weekend and used a lot of bad language, they are chicken hawks and I have no respect for them," Dean added when Chris Matthews gave him one more chance to take the "nut job" line back. "I have a lot of respect for the people who serve this country and I apologize."
"I don't like the way they called the Arabs in Iraq 'savages,'" Matthews said of the film. "And somehow there's a connection between 9/11 and Iraq? That's something I will not accept. The Iraqis did not attack us, they had nothing to do with 9/11. That was the sales pitch to get us in that war."
Watch video below, via MSNBC:
[Photo via screengrab]
— —
>> Follow Matt Wilstein (@TheMattWilstein) on Twitter
Have a tip we should know? tips@mediaite.com