Huckabee: Media Matters Is 'Operating Illegally,' David Brock May Be 'Paranoid Schizophrenic'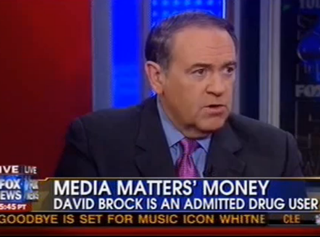 The Daily Caller's extensive reports on Media Matters exposing their work as partisan and, through anonymous sources, accusing Media Matters' head David Brock of being little short of insane and using tax dollars for partisan campaigning, has certainly been one of the dominant themes in the Fox News story cycle this week, and this morning on Fox & Friends, Mike Huckabee got to weigh in. And he had quite a few heavy-handed comments for the organization, possibly being one of the first to call the operation flat-out illegal.
RELATED: Megyn Kelly To Media Matters' Private Eyes: You'll Just Catch Me Watching Downton Abbey
Huckabee began by joking about the report that Media Matters considered hiring private detectives to investigate Fox News anchors, telling host Juliet Huddy he had "seen your file." He then went on to the serious topic of Media Matters using tax dollars for their operation. "The outrageous thing about this is that it is a political campaign… it is not a watchdog, it is a lapdog," he said of Media Matters, adding that the organization was "operating illegally" and explaining that "when you use tax exempt money in a clearly partisan way… that's against the IRS code for a 501(c)(3)." While he objected morally to some of what they do, he argued that "you have the freedom to do things that are cruel, unethical," and considered the reports "disgusting," "but when you do it with tax dollars, that's where the problem is."
Host Clayton Morris shifted the conversation from the organization at large to head David Brock, "a guy who is questionable at best." That assessment seemed fair to Huckabee, who added that he "has an interesting history" of being both a far-right Republican and a far-left Democrat. Huckabee also added the weird and entirely meaningless point that Brock "once was straight, now he is gay," as if unaware of the entire concept of "coming out" to form some sort of thesis that Brock had "vast moments of polar movement." He moved on quickly from whatever that was supposed to mean, however, to add that he believed Brock to be acting like a "paranoid schizophrenic," a concern everyone else on set apparently shared.
Huckabee's comments via Fox News below:

Have a tip we should know? tips@mediaite.com