Huckabee: Obama Promised Young Voters 'Pie In The Sky, And What They Got Was Pie In The Face'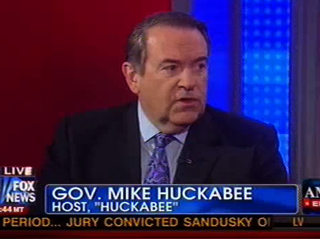 Mike Huckabee does not think that the argument that Congress has been obstructionist to President Obama will hold water for many of the young voters who put him in office in 2008. In his weekly appearance on Fox & Friends this morning, Huckabee told the hosts that he expected many of those voters to "stay home," which will be "devastating" for President Obama, because they don't care whether it's Congress or the President preventing change– they just want results.

RELATED: Peeved Mike Huckabee Scolds Bristol Palin After She Stands Up Appearance On His Radio Show
The Fox & Friends hosts began the conversation with a simple question: is President Obama going to keep the youth vote? "A lot of these kids either got out of college or they're in college now… they're in debt and out of school and moving back in with mom and dad," Huckabee explained, which was not what they voted for. He didn't expect them to vote for Romney, either, however: "they may stay home, but if they stay home, that's devastating for Barack Obama." Even if many of the problems that will lead them not to vote are caused by Congress rather than the President, Huckabee argued youth voters don't care. "They don't care about the process," he explained, "if you're 22 years old, do you really care about the intricacies of legislation? No, you care about results."
"They've got a President that promised them great things, pie in the sky, and what they got is pie in the face," Huckabee concluded, adding that his program tonight is dedicated to millennial voters.
The segment via Fox News below:

—–
»
Follow Frances Martel on Twitter
Have a tip we should know? tips@mediaite.com