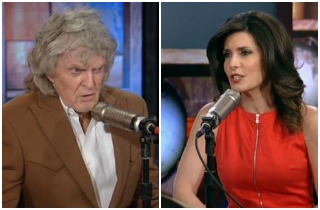 Fox Business Network reporter Lori Rothman and radio broadcaster and Fox Business Network host Don Imus tore into New Jersey Gov. Chris Christie on Friday for his handling of the scandal surrounding the closure of two lands of the George Washington Bridge in September, 2013. Rothman said she was mistrustful of Christie's assertions that he was unaware of his staffers' actions until recently and Imus attacked Christie's "emotional" press conference as borderline "menopausal."

"I might be falling off the Christie bandwagon," Rothman began. "The fact that he's running an administration that might condone that or has culture to even think that that's okay."
"The language in these emails was a little bit upsetting to me," she continued. Rothman added that she is a commuter and she resents the government playing politics with "my commute" "really ticks me off."
RELATED: Christie's Dem 2013 Opponent: 'He'll Leave Office' Before Term Ends but 'Not to Run for President'
"I thought Fox issued a memo to you guys every day on what you were supposed to say, but apparently they don't," Imus remarked.
"So, I agree with you," he added. "And I love the guy."
"And didn't he sound a little menopausal?" Imus asked.
"What do you mean by that?" Rothman asked.
"I mean, he sounded a little emotional," Imus clarified. "I could have adopted a better phrase or employed a different word than menopausal but I'm not that bright."
Rothman agreed. "I heard some analysis earlier from the person who wrote to you suggesting that he was trying to remember what he said," she submitted. "I agree with that."
Watch the clip below via Fox Business Network:
[Photo via screen grab ]
— —
> >Follow Noah Rothman (@NoahCRothman) on Twitter
Have a tip we should know? tips@mediaite.com