In First Post-Snub Briefing, Fox News' Ed Henry Tells Jay Carney 'Nice to Talk to You'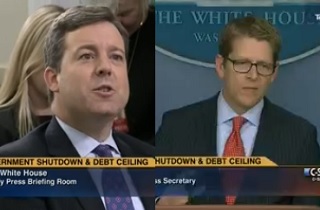 In his first White House Daily Briefing since being repeatedly ignored by Press Secretary Jay Carney on Friday, Fox News Chief White House Correspondent Ed Henry reacted to being called on by telling Carney "Nice to talk to you."
Friday's snub came after one particularly tense exchange, of many, in which Carney accused Henry of "making a partisan issue" out of military death benefits. On Tuesday, Carney called on Henry early in the briefing, and took one mild shot at a defensive Henry.
Carney called on Henry with a calm "Ed."
"Thank you," Henry said, adding, to murmurs from the room, "Nice to talk to you."
"I wanted to ask you about the President's role in the final hours here," Henry continued. "Yesterday there was supposed to be a meeting with leaders in both parties. Today his schedule just has House Democratic leaders, not both parties. Senator McCain, a short time ago on the Senate floor — and he's obviously been critical in recent days of his own party and has said that they need to come to a deal — but a short time ago he said it's a mistake for Democrats to reject Speaker Boehner's latest proposal. He said it's, in his words, "a serious proposal." So my question is, does the President plan to, A, let the congressional leaders work this out in the final hours, or does he see that his role in the final hours — because this is so critical, as you say — that he will play some direct role in trying to force a deal?"
"I have no doubt the President will be in contact with congressional leaders of both parties as this process continues," Carney said, then scolded, "As you know, Ed, but didn't include in your question, we postponed the meeting yesterday because of the progress that was being made in the Senate."
"True," Henry said, protesting "I wasn't trying to…"
"So it is the President's intention," Carney continued, "and it's reflected by the meetings and conversations he's been having with leaders, as well as the fact that he invited every member of Congress to the White House last week for discussions on this issue — to engage directly with lawmakers as they try to resolve this issue, and try to do it in a way that, hopefully, reflects the bipartisan spirit that we've seen in the Senate process.
Henry also asked about the latest report on NSA surveillance, which Carney answered with general boilerplate about the NSA's mission and FISA oversight, and about former White House Press Secretary Robert Gibbs' recent remarks about the Obamacare rollout.
"Your predecessor, Robert Gibbs, had some interesting things to say about the health care rollout yesterday," Henry said. "He said that it's been botched. And he said that when it gets fixed, "I hope they fire some people that were in charge of making sure that this thing was supposed to work." How do you react to that? And since Republican Senator Pat Roberts has called for Secretary Sebelius to be fired, does she still have the full confidence of the President?"
"The Secretary does have the full confidence of the President," Carney replied. "She, like everyone else in this effort, is focused on our number-one priority, which is making the implementation of the Affordable Care Act work well. People are working 24/7 to address the problems and isolate them and fix them when it comes to the website and enrollment issues."
He went on to recount several stories of successful enrollments.
Henry explained, several times this week, that he walked out of Friday's briefing because he had to make it to a live shot, and it was apparent to him that Carney was not going to call on him. Apparently, there have been suggestions that Henry walked out in protest, but it is common for TV reporters, and others, to leave briefings when their business is concluded. What is not common is for the Press Secretary to repeatedly ignore a front row reporter's attempts to ask a question.
During the Bush presidency, Ed Henry, then with CNN, was snubbed at a presidential press conference by George W. Bush, along with Helen Thomas, and President Obama shut out TV reporters at his last presser, but daily briefings are a different story.
Here's the clip from Tuesday's briefing, via C-Span:
Have a tip we should know? [email protected]