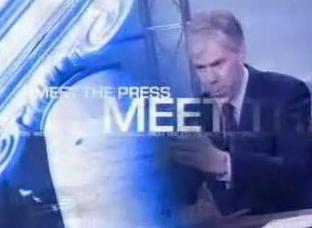 Tim Russert passed away slightly more than a year ago, and the show he was so tied to, Meet the Press, has gone through several incarnations as it recovers from the huge impact of losing the man at its helm.
One thing that is evident – there is less Meet the Press in the post-Russert era.
When Wimbledon took place two Sundays ago, there was no Meet the Press. The same was the case when the French Open took place in early June. And just a few weeks after Russert's death last year, the show did not air during Wimbledon '08 either. But Meet the Press was not preempted for these events ever while Russert was moderator.
An NBC spokesperson had "no comment" on the change, but there are a few possible reasons.
First of all, it could simply be a matter of financial issues. Obviously it costs more to put on a program than to give the week off, and we're at a time when every news network could afford to save some money. Since the show would be at lower coverage for the week, not airing in some major markets, the ratings were sure to not be as strong as usual. When the U.S. Open aired in June, MTP was marked a special and dropped significantly in the ratings.
Another reason for the decision-making goes back to Russert's other role – as Washington bureau chief. Even when MTP would air as a special during times of low coverage, Russert would not necessarily serve as moderator. Instead, it was his direction that pushed the show on air, even with lower coverage.
In a Sunday morning ratings race that has suddenly gotten very tight (and at times, a bit petty), the decisions made by each network are drawing more attention. Choosing to not air a program is not rare – NBC always did it during the Olympics, and ABC's This Week, for example, is off this Sunday for the British Open (as they are every year) – but what's rare are the choices being made at NBC.
It is indicative of a changing of the guard. And now, Meet the Press is in a fight for first, a story likely to continue.
—–
• Follow Steve Krakauer on Twitter
Have a tip we should know? tips@mediaite.com