Jaguar Exec Responds To The Company's … Uh … Less Than Flattering Portrayal On Mad Men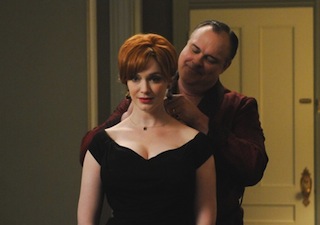 One of the more interesting elements of AMC's series Mad Men has been the way its used real company's and brands. Of course, this isn't simple product integration. For every beautiful Kodak Carousel pitch, there are plenty of company's whose fictional execs are shows as behind the times, blind in the face of Don Draper's genius, or even out and out creeps like Lucky Strike's angry closet case. However, perhaps no one's gotten depicted as poorly as the folks from Jaguar cars this past Sunday, which is why it's so fun to read Ad Age's interview with JaguarUSA's VP-brand development, David Pryor.
For those of you that don't watch the show (what's wrong with you?) or for those of you that aren't caught up (SPOILER WARNING obviously), the past few episodes have followed the team of struggling ad agency Sterling Cooper Draper Pryce's hard fought battle to land a big car; in this case Jaguar. Throughout the episode, characters repeatedly talk about how hard it is to sell such an "impractical" vehicle and how the people who work in the car industry are frequently scumbags. To illustrate this point, the fictional head of the Jaguar Dealers Association literally tells the characters that he won't vote to sign SCDP unless they give him a night with Joan Harris, the character played by Christine Hendricks. Joan has to literally prostitute herself, sleeping with the gross man.
What brand wouldn't want to be depicted that way?!
Well, over in the Ad Age piece, you can watch Pryor bending over backwards to not seem uncool in his reaction to the popular show.
"'I'm a big fan of the show and it was gratifying to see our brand portrayed,' Mr. Pryor told AdAge.com. Then he added, laughing, 'I would say we were fairly surprised at the turn of events.'

Mr. Pryor said Jaguar had no control over the script and that he, like everybody else, saw the latest episode when it aired Sunday night. He said that "Mad Men" researchers only reached out to Jaguar's archivist to ask questions about the advertising in the 1960s and what a typical dealership and showroom might look like.

'Obviously it was kind of tainted … with the storyline,' said Mr. Pryor, formerly the chief marketing officer at Porsche North America. 'We would agree with Don's position that the best creative should win, not something that was less than above-board. At the end of the day, though, we're confident that people know it's a fictional character.'"
Well, you've got to give the guy credit for having a good sense of humor about the whole thing.
Meanwhile, over on AMC's The Pitch, every company is awesome always!
(h/t The A.V. Club)
Have a tip we should know? tips@mediaite.com