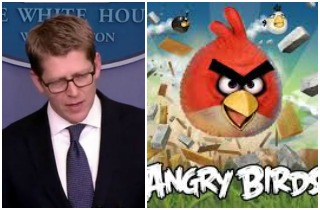 In conjunction with ProPublica and The Guardian, the New York Times reported on Monday that users of popular smartphone applications, including popular games like Angry Birds, are in danger of having their information scooped up by the National Security Agency. When pressed about this revelation by a reporter, White House Press Sec. Jay Carney mocked and dismissed the question but defended the NSA's ability to collect information on potential security threats from any source.

"It seems like this is the last bastion of American freedom," said Talk Radio News Service reporter Victoria Jones in a question about the Times' report. "There seems to be something particularly egregious about going after leaky apps."
"I think that you need to understand that of course I'm not in a position to discuss specifics of intelligence collection," Carney replied. "But to be clear, as the president said in his January 17 speech, to the extent data is collected by the NSA, through whatever means, we are not interested in the communications of people who are not valid intelligence targets.
"And we are not after the information of ordinary Americans, which presumably contradicts the premise of your question," he continued.
"But why are they taking it?" Jones pressed.
Carney and Jones argued over whether smartphone games should be subject to protections and whether potential terrorists would exploit gaps in surveillance.
"I mean I'm not even sure what protection you're seeking there for a potential terrorist," Carney insisted. "Terrorists, proliferators, other bad actors use the same communication tools that others use."
Watch the exchange below via WhiteHouse.gov:
h/t The Blaze
[Photo via screen grab/Rovio]
— —
> >Follow Noah Rothman (@NoahCRothman) on Twitter
Have a tip we should know? [email protected]