Jay Carney: 'No One in the White House Spends Any Time Thinking About' Fox's Keith Ablow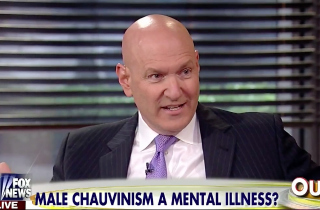 Despite Keith Ablow's incessant attempts to stir controversy and draw the ire of the White House, it seems as though the Obama administration couldn't care less what he has to say.
The Fox News psychiatric "expert" has spent the past several years making pseudo-diagnoses of President Barack Obama's psychological state, often resulting in mockery and derision from his own co-workers and the media at large.
Associated Press TV writer David Bauder has a lengthy profile on Ablow, parsing the many armchair analyses the blowhard has offered for the president and others (including this summer's infamous Outnumbered statement that Michelle Obama could stand to "drop a few pounds"), noting that the Fox pundit's own medical colleagues regard him with disdain.
-RELATED: Horrible Fox News Employee Calls for an 'American Jihad'
"[H]e is a narcissistic self-promoter of limited and dubious expertise," said Dr. Jeffrey Lieberman, chairman of psychiatry at Columbia University's College of Physicians and Surgeons. Boy is that ever true. Other psychiatrists described Ablow as "embarrassing" and "irresponsible."
And as for whether the White House cares about Ablow's beliefs that the president wants Ebola to spread in America as revenge for American colonialism; that the president enjoyed the World Cup because it distracted people from his attempts to destroy America; and that the Obama's grandmother distrusted black people and so Barack hates America? Well, let's just say it's unlikely.
Bauder spoke with former White House flack Jay Carney who was unaware of Ablow's existence, adding: "I'm confident that no one in the White House spends any time thinking about him. Fox is Fox. It doesn't really matter who the salesman is. The product is always the same."
— —
>> Follow Andrew Kirell (@AndrewKirell) on Twitter
Have a tip we should know? tips@mediaite.com