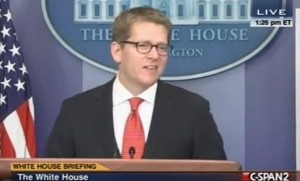 One of the revelations from the new book The Obamas by The New York Times' Jodi Kantor that's getting some unexpected heat (especially on right-wing blogs) is the supposedly "secret" 2009 Halloween party at the White House, which was attended by the likes of Johnny Depp and Chewbacca The Wookie. At today's White House briefing, Jay Carney responded to the "controversy," telling ABC Radio's Ann Compton and Fox News' Ed Henry that it wasn't actually a secret at all.
The allegation in the book is that the "lavish" party, designed by Tim Burton and attended by Alice In Wonderland star Johnny Depp (and the aforementioned Wookie), was kept under wraps for fear of incurring Tea Party-stoked ire over such a celebration during a recession.
However, the event was on the White House schedule, and was covered by the press pool. The sticking point appears to be that the White House billed this as a "Halloween reception for military families," rather than "The Depp-Burton-Wookie Show (plus some other people). Bastards!
Asked by Ann Compton about the party, Carney explained, "This is a perfect example — it goes right to my first point about how these books — books like these take these things out of context. A couple of outlets that I won't name, you know, reported a secret party — well, if it was secret, why did we invite the press in, why was there a pool report and contemporaneous photographs?"
"There was a story about Johnny Depp being there?" Compton asked.
"There wasn't a publicity event for the outside, Carney replied. "It was a military event for their children and their families inside the White House where the press came, photographs were taken. It was contemporaneously known who was here. If that's — if we're trying to hide something by bringing in the press, we're not very good at it."
"For the record, there's not one statement from this White House –" Compton stated.
"But, again, the purpose wasn't for — we do a lot of these things july 4th, other events here, including other events that are geared towards military families and their kids where the purpose isn't to publicize them externally for you guys but to have a nice event for them here, which is different from trying to hide anything."
Carney is correct here. A few months ago, I even remarked about how some events with celebrity attendees were inexplicably closed to the press, while others were not. There are a host of considerations that go into those decisions. Additionally, the White House could easily have requested guests not take photos, or otherwise publicize certain events (I've seen such requests made in the past), but they made no such request. They weren't seeking publicity for Chewie and co., but they certainly weren't avoiding it.
By the same token, I covered a very lavish event during the heart of Tea Party angst in 2009  (a Father's Day barbecue cooked by Bobby Flay, and attended by a host of celebrities, including DMC!!1!) that was completely open to the press. As it happens, the Halloween party was listed as "Pool spray at the top," which means there's a photo op at the beginning of the event, and then the press leaves.
This attack might make some sense if this event had been for administration staff, or donors, but the focus was on military families. Why would the White House think the American people, Tea Party or not, would begrudge them anything?
Fox's Ed Henry also followed up on the party, pointing out that the press pool was not allowed access to the whole party. Carney replied that there were pictures of Depp and others that were made public, pretty much in real time. Depp's appearance was reported on his fan club's website.
There's every reason to believe, then, that the White House wanted to keep the focus on those deserving military families, and that the notoriously publicity-shy Depp and Burton felt the same. In Right-Wingnutistan, though, no good deed goes unpunished.
Just to be sure, I asked Carney if there were any other secret parties he wanted to 'fess up to now.
"That one where he lit the Christmas tree?" Carney replied. "That was supposed to be secret, but as usual it leaked."
Here's the video of Carney's response, from C-Span2:
Here's the pool report from the event, from USA Today's Richard Wolf:
A couple hundred military families, chosen by each service, and White House staffers and their children roamed the first floor of the White House as an old-fashioned turntable played albums — yes, albums. POTUS and FLOTUS came into the East Room at 7:12 p.m. to greet some of them personally. Included: Robert Gibbs dressed as Darth Vader, with son Ethan; Ambassador to the United Nations Susan Rice, dressed as Goofy (the president jokingly asked cameras not to take her photo). The First Couple handed out the same treats that went to those passing by outside; at one point the president squatted down to talk to some of the children, seated on the floor.

As the pool was being ushered out, the president spoke briefly. He told the military families "We are so grateful to you," especially those who are separated from family members. He thanked staffers and their children, at which point FLOTUS piped in, "They're so cute!"

"They're adorable," POTUS said, "as is, by the way, my wife — a very nice-looking Cat Woman."

The president told everyone to enjoy the party and the characters but warned, "Some of them are pretty big and scary." He noted that younger daughter Sasha "doesn't like big furry things." (Neither Obama offspring was seen, but we're told they were there.)
Have a tip we should know? tips@mediaite.com