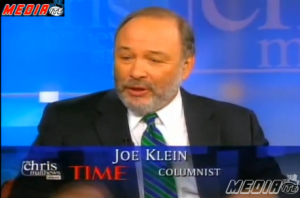 Aha! Someone was listening during Obama's press conference the other day, when he was sure to note that Secretary of the Interior Ken Salazar had inherited a rotten Minerals and Management Service, "plagued by corruption for years." Today on The Chris Matthews Show, Joe Klein of Time magazine acknowledged that unlucky inheritance, calling the BP oil spill catastrophe "more Bush's second Katrina than Obama's first."
The assertion got an equally sympathetic reception, with Chris Matthews picking up the point and saying, "I agree, if you go to the management issue," with Klein further noting that "it was the Bush regulations, it was Dick Cheney's deregulation" that had enabled the current state of events. The other panelists were also sympathetic, agreeing that even though Obama's administration had seemed to react slowly, there wasn't a sense that there was something they weren't doing, or something that the public wanted done that was being ignored. Said John Harris of Politico: "President Obama is in a horrible situation – he has responsibility, without power. He's gonna be held accountable, but there's not a lot he can do about it."
Watch below:


NB: The video cuts off just as Chris Matthews changes the subject and asks Trish Regan about the future of offshore drilling ("Not necessarily dead, but it's definitely going to be put on a bit of a hiatus here").
What Obama said during Thursday's press conference:
When Secretary Salazar took office, he found a Minerals and Management Service that had been plagued by corruption for years — this was the agency charged with not only providing permits, but also enforcing laws governing oil drilling. And the corruption was underscored by a recent Inspector General's report that covered activity which occurred prior to 2007 — a report that can only be described as appalling. And Secretary Salazar immediately took steps to clean up that corruption. But this oil spill has made clear that more reforms are needed.
How Frank Rich explained it in today's column:
The Interior Department devolved into a cesspool of corruption, even by its historically low standards, turning the Bush-Cheney antigovernment animus into a self-fulfilling prophecy and bequeathing Obama a Minerals Management Service as broken as the Bush-Cheney FEMA exposed by Katrina.
But even if it is Bush's second Katrina, it's happening during Obama's first term. So, that's where the outcome of this situation will come home to roost — especially, as Klein said, "if you get oil showing up on the beaches of Florida." Now that's a state you don't want to piss off before an election.
Have a tip we should know? tips@mediaite.com