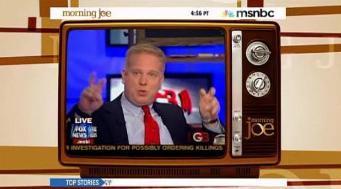 You could see the wheels turning in Joe Scarborough's mind as he thought the wheels were coming off on Glenn Beck's Fox News show yesterday. The MSNBC host wrote on Twitter, "Not a good sign when Glenn Beck's own guests look @ him like he's crazy," and later followed up: "Beck show so strange today. Host tries to paint vast left conspiracy and guests just stared at him like he was out of his mind. Bizarre TV."
Those initial tweets turned into a lengthy segment on Morning Joe this morning, where Scarborough and the rest of the guests tried to make sense of what occurred the night before on a competing network.
The show was quintessential Beck, with the FNC host stoking the fear of his viewers with broken analogies to Nazi Germany and hypothetical questions. Nowhere did he outright say anything outrageous about President Obama – it was just implication and innuendo. "Anybody here believe eugenics is coming? Building a master race?" asked Beck. None of his guests agreed. That was a theme during the entire show.
Scarborough set up a series of clips of the show, saying, "It was as confusing to me as it was to his guests," said Scarborough. "This is must-see TV."
After, while laughing hysterically, Scarborough said, "I think this was a booking problem more than anything. He booked three very thoughtful people who would not play ball."
This set off a lengthy discussion, that moved away from Beck and into fearmongering and health care in general:
Have a tip we should know? tips@mediaite.com