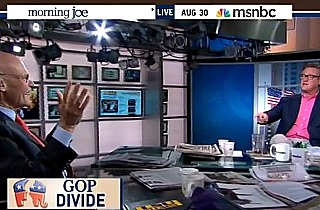 On Friday's Morning Joe, the hosts and guests of the program argued over the direction the Republican Party needs to take in order to become a viable national party again. The conversation veered from what important traits a GOP presidential candidate should have to whether Joe Scarborough himself embodied those traits. Democratic strategist James Carville argued that Scarborough was too moderate for his party, but Scarborough disagreed. He said that a few "Cheeto crunchers on blogs" dislike him, but he more often hears Republicans praise him and "thank God" for his commentary.

The Morning Joe panel began by discussing how Bill Clinton saved the Democratic Party in the 1990s by moving to the center. They wondered how Republicans could internalize those lessons and apply them today.
"I know the Republican primary electorate and I can tell you what they do," Scarborough said. "They go to work. They don't stay at home and blog all day. They're not on twitter at 7:30 in the morning. They may have this show on in the background. They may have Fox on in the background. But you know what they're doing? They're getting their kids ready for school."
Scarborough said that the faction of the Republican Party that wants to "blow up every building in Washington" is not representative of the GOP as a whole.
RELATED: MSNBC's Mika Brzezinski Has Best Possible Reaction to Miley Cyrus' VMA Performance
Carville said that the conservative wing of the party believes that moderates do not win national elections and a more conservative GOP nominee would. Scarborough agreed, saying that Beltway moderates have a bad track record of winning presidential elections. However, he stressed that a more populist nominee would be preferable to a strictly conservative nominee.
"Conservatives win presidential elections, but not conservatives that are crazy that want to shut down the government," Scarborough said. He added that he has written books about how George W. Bush was not conservative enough.
"These guys do not consider you one of them," Carville informed Scarborough.
"I can tell you, there are a couple of Cheeto crunchers in basements in their underwear in their mom's basements on blogs may not care for me, but I can tell you when I walk through airports, when I go to little league ball games, when I go shopping, I've got republicans coming up to me hugging me going, 'thank God, thank God,'" Scarborough countered.
Carville cited RedState blogger Erick Erickson as someone who does not like Scarborough's vision for the future of the GOP. Scarborough countered that Erickson does, in fact, like him.
Watch the clip below via MSNBC:
—
> >Follow Noah Rothman (@NoahCRothman) on Twitter
Have a tip we should know? tips@mediaite.com