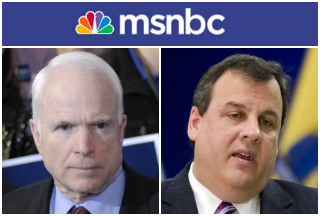 Senator John McCain (R-AZ) thinks he knows why MSNBC has been spending so much time covering New Jersey Governor Chris Christie's "Bridgegate" scandal over the last couple of weeks. Appearing on an Arizona radio station this week, McCain explained why he believes the network's "near hysteria" over the issue has been even more heightened than usual.
"I noticed the zeal and fervor and near hysteria of MSNBC is greater than normal against your normal conservative and that is because they view him as a real threat to be president of the United States," he said. "I don't think there's any doubt with a popular governor in a Democrat state — pretty tough guy, good background — that they are trying to exploit this as much as they can."
McCain added that Christie was merely guilty of "poor management" and took responsibility by firing those who ordered the closing of access lanes to the George Washington Bridge in an attempt to exact political retribution. From there, McCain did what many on the right have done in response to "Bridgegate," employing a similar "zeal and fervor" over Hillary Clinton's role in failing to prevent the attack on the U.S. consulate in Benghazi.
"What the hell is going on when our secretary of state is not held responsible for the deaths of four Americans in Benghazi?" he asked, invoking the Democrats' biggest "threat" for 2016. "Chris Christie held people responsible who carried out what was obviously an abuse of power. Hillary Clinton has never taken responsibility, even though the the Intelligence Committee, Republican part of the report, mentioned her specifically."
While it's certainly possible that MSNBC's aggressive coverage of "Bridgegate" has to do with damaging Christie's chances for the presidency in 2016, they do have one other big incentive. The week the story broke, the network beat Fox News in the 25-54 demo on two out of the five weeknights, with Rachel Maddow topping Megyn Kelly for the week for the first time since Fox launched The Kelly File last October.
Listen to audio below:
[h/t The Right Pundit]
[photos via Wikimedia Commons]
— —
>> Follow Matt Wilstein (@TheMattWilstein) on Twitter
Have a tip we should know? tips@mediaite.com