Snowden Hits Media for Not Doing Job: 'Abdicating Responsibility to Hold Power to Account'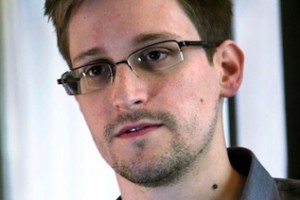 Edward Snowden has been called a traitor. People have called for his execution, attacked him as a coward, and made some pretty bold claims about what he's done. But has anyone in the media taken on the government with half of that very forcefulness? That was the issue Snowden himself brought up in a new interview with The New Yorker's Jane Mayer. He argued that the media needs to be tougher on those in power instead of letting them just baselessly smear him to discredit him and the information he released to the public.
Snowden first responded to the claim made by multiple members of Congress that he had help from Russia in stealing and exposing NSA secrets, hence why he ended up there. He says he "clearly and unambiguously acted alone," and if he was really a Russian spy, he asked, "why, then, was he 'stuck in the airport forever' when he reached Moscow?"
Snowden even went so far as to mock all the unconfirmed speculation surrounding him by saying it'd be like declaring aloud "we don't know if he had help from aliens."
But Snowden was even more dismayed by how members of the media are not doing their jobs in holding people accountable for the things they say.
"It's just amazing that these massive media institutions don't have any sort of editorial position on this. I mean, these are pretty serious allegations, you know?" He continued, "The media has a major role to play in American society, and they're really abdicating their responsibility to hold power to account."
He concluded that if "I end up disgraced in a ditch somewhere, but it helps the country, it will still be worth it."
[photo via screengrab]
— —
Follow Josh Feldman on Twitter: @feldmaniac
Have a tip we should know? tips@mediaite.com
Josh Feldman - Senior Editor