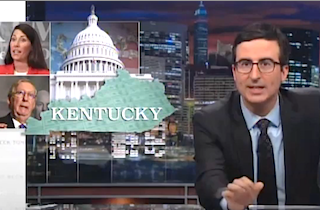 If you caught this past Sunday's episode of Last Week Tonight, you're probably still recovering from what John Oliver's HBO-tastic campaign ad promised was Senate Minority Leader Mitch McConnell's "old, white, wrinkled dick." On Tuesday, Oliver revealed to Mother Jones just how his show went about finding the perfect penis for the job.
Oliver generously explained:
"Of course, you do need to cast a penis. And to do that you have to be presented with a selection of penii—I don't know if that's the collective term. And so then what you're looking for—it's amazing—when you look at then you start judging them for the purpose, because you want something that is funny but not sad. Because, you know, a sad penis does not help the comedy. No, it makes you think about the person the penis is attached to. So really, you just want a representative old man penis. And I'm not sure that sentence…has ever been said out loud before…We got to one that we liked, and the owner of that penis was generous enough to model it for us."
Once the team had made its decision, Oliver said, "you walk out of a room, and you stare out a window and question what the fuck you're doing with your life…That's basically how it goes."
Read the full interview at motherjones.com.
If you didn't get a chance to see it, watch the video below, via HBO (and remember, it's VERY NSFW):
[Photo via screengrab]
— —
>> Follow Matt Wilstein (@TheMattWilstein) on Twitter
Have a tip we should know? tips@mediaite.com