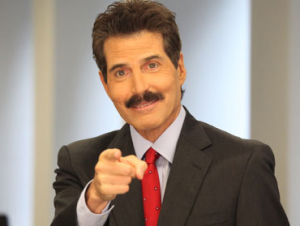 Gather 'round for Friday story time, kids. Today's edition featuring Fox Business Channel's John Stossel — who, at the after-party for last night's premiere of The Imposter, shared an anecdote that's equal parts funny and…bizarre. Back in the day, when Stossel was at ABC, he learned he had an imposter. Who was using Stossel's mustache dashing good looks to pick up women in bars.
"There was a guy cruising bars pretending to be me and picking up women about ten to fifteen years ago," Stossel told New York Magazine. "When I heard about it once, I dismissed it. When I heard about more times, I became a little alarmed."
Apparently, at least three women "eventually figured it out" and contacted Stossel to let him know. Via NY Mag:
"You should know there's this guy pretending to be you," they told him. Stossel thinks the women went on multiple dates with his double, "and they may have slept with him … because they really felt betrayed," Stossel said. "But he hadn't done anything horrible to them other than maybe sleep with them and mislead them," which, actually, does seem pretty horrible.
"It freaked me out," Stossel said. So what did he do? The only thing he could do: He called the man's mother.
"I'm not sure if I made the call myself," he said. "I might have had someone from [his former network] ABC or my assistant call, because I wanted to keep it at arm's length. But it only stopped after we talked to his mother."
Ah, the "stop impersonating a media personality to get yourself laid" conversation every parent dreads.
(H/T NY Mag)
Have a tip we should know? tips@mediaite.com