Stewart: Chris Christie 'Kicked Crazy Ass' Working With Obama On Hurricane Relief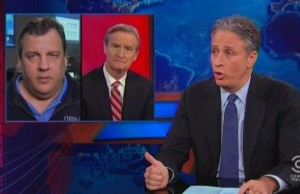 After two days on hiatus due to Hurricane Sandy, Jon Stewart was back on the air tonight to recap just how hard New York was hit by the hurricane in the past few days. Stewart said that Manhattan is still so dark, he's nicknaming it "Little North Korea." He credited the state and local officials who were quick to respond to the damage, singling out New Jersey governor Chris Christie for his praise of President Obama while working with him on the devastation.
Stewart checked in with three Daily Show correspondents to survey the damage. While Al Madrigal was holding a machete to protect himself in the new free-for-all madness and Jessica Williams was selling rats on the lower east side, John Oliver surveyed the mostly unharmed "total hellscape" in Times Square and ran off a quintessential list of first world problems.
Stewart continued by honoring the state and local officials who responded to the hurricane, in what he dubbed a "tribute to institutional competence." He credited both Michael Bloomberg and Andrew Cuomo for their responses, and used Bloomberg's statement about the necessity of government services to sarcastically ask, "Did you know that people need government services and they cost money?"
But the majority of Stewart's praise went to Christie, who Stewart said "kicked crazy ass" in how he responded to the hurricane. He's been one of Romney's biggest allies and one of Obama's biggest critics, and yet the New Jersey governor not only toured the damage with Obama, but he went out of his way to actually praise Obama's leadership in responding to the storm. And even when Fox News' Steve Doocy tried to prod Christie by asking him about meeting with Romney to tour the damage in New Jersey, Christie smacked him down by saying politics are the furthest thing from his mind during a natural disaster.
At that point in the conversation, Stewart said, someone should have just flipped over a table and screamed "Prostitution whore!" a la the Real Housewives
Watch the video below, courtesy of Comedy Central:

—–
Follow Josh Feldman on Twitter: @feldmaniac
Have a tip we should know? tips@mediaite.com
Josh Feldman - Senior Editor