Jon Stewart Employs Dildo Spinning Wheel To Report Stories Hidden By Weinergate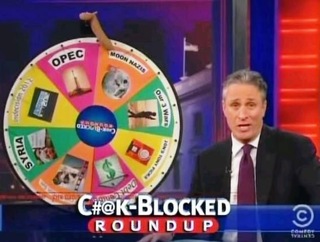 It's been two-weeks of non-stop [Rep.] Weiner coverage, and many in the media are feeling the fatigue. Needless to say, as the only person physically maimed by the scandal, Jon Stewart was paramount among them today, and chose to ignore the scandal completely today and instead cover other stories that were pushed aside this week. He needed a bit of help, however, and so used a spinning wheel of hot topics to find them, with a strategically-placed dildo as its pointer.
The segment was appropriately titled the "C*ckblock Roundup," and Stewart got three spins of the wheel to see what else was going on in the world during the two-week vacation Americans took from news that had nothing to do with sexy Twitter pics. On the first try, the dildo landed on "Our Three Wars"– apparently meaning Iraq, Afghanistan, and Libya, except according to non-Weiner news, the next possible warfront is Yemen, where the government is in turmoil after its President was physically aggrieved and had to relocate to Saudi Arabia.
That's depressing, so Stewart gave the dildo another shot, but that only landed him in Syria, where repressive tyrant Bashar al-Assad has been on somewhat of a killing spree. Stewart finally got less where presidential candidates have been "wrestling with Anthony Weiner's penis for airtime." Among those was Tim Pawlenty, who went out of his way to tell every region in America that whatever they were doing was wrong for them (say, telling Iowans he would take away agricultural subsidies and telling Floridians Social Security needed to be cut), and Herman Cain, who is on a campaign to limit bills to three pages.
The segment via Comedy Central below:
Part 2
Part 3
Have a tip we should know? tips@mediaite.com