Jon Stewart Plays A Game Of 'Find The Narc' With Media Coverage Of Marijuana Legalization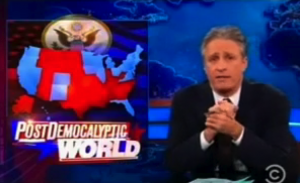 After spending last night on the presidential election results, Jon Stewart focused tonight on the ballot referendums passed across the country, particularly the marijuana legalization initiatives passed in Washington and Colorado. But what Stewart found most amusing about the reaction to the referendums was the relatively unserious way the national news media has been covering it.
RELATED: Barney Frank Admits To CNN's Erin Burnett That He's Tried Pot Brownies
Stewart first brought up a number of serious issues voted on by Californians before reacting to the referendum mandating that porn stars must wear condoms. He was stunned that voters get to decide that, and suggested a number of potential porn-related referendums for the state to take on, including how many men can be put into a porn scene before it starts feeling kind of gay.
But then Stewart brought up the marijuana legalization successes in two states, putting on headphones in advance in anticipation of the crowd going wild. He played a game of "find the narc" in the media that would be the big buzzkill about the news. Brian Williams didn't pass the test, and in fact made a wisecrack about having the munchies.
But Steve Doocy, over at Fox & Friends, who warned parents about their kids "getting all potted up on weed," qualified as Stewart's narc of the night. What Stewart also noticed was that many in the media are seemingly incapable of reporting on the news without giggling or making all sorts of pot-related puns.
Correspondent Al Madrigal then appeared for a report, and like his colleagues in the media, he really overdid it with the pot wordplay.
Watch the video below, courtesy of Comedy Central:
Part 1:
Part 2:
Part 3:
—–
Follow Josh Feldman on Twitter: @feldmaniac
Have a tip we should know? tips@mediaite.com
Josh Feldman - Senior Editor