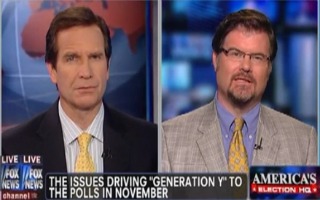 Author and National Review contributor Jonah Goldberg appeared on Fox News Channel on Friday to discuss the findings in a recent Fox News poll that showed young voters still supporting President Barack Obama. Goldberg was asked, simply, if young voters would support Mitt Romney – he responded bluntly, "no." While Goldberg is probably correct, there is evidence that some young voters are contemplating abandoning the President ahead of a close election in November.

RELATED: Young Voters Trending More Republican According To New Poll
Fox anchor Jon Scott asked Goldberg to address the findings in a recent Fox News poll which showed Obama leading Romney with 52 to 28 percent of the vote (among 164 registered voters age 18-29. Taken from May 13 – 15 with a +/- 8.0 margin of error).
Goldberg said that Obama outperformed expectations in 2008 and added 3 million young and excited voters to the rolls which "blew out the projections in North Carolina and Indiana." However, he says that the enthusiasm is gone and, while he will still win the younger demographic, he is unlikely to win with 2008 levels of support.
"The voters in 2008 who voted for Barack Obama –a huge number of them are still on their parent's couches," said Goldberg. "They haven't found work or their underemployed. They're looking at their future and saying, 'this is not what we were promised.'"
When Scott asked if Mitt Romney inspired enough enthusiasm in young voters to capture their votes, Goldberg responded simply, "no."
"Mitt Romney is not a 'hip cat' for the youth vote," said Goldberg. "As long as they're not enthusiastic or Obama, I think that's good for Romney."
Goldberg published a column in today's National Review in which he expresses a palpable level of exasperation over the Obama campaign's transparent pandering to the youth vote. In "Generation Pap," he takes on the Obama campaign for their "pathetic" attempts to inject some excitement into young voters:
[I]n terms of naked pandering, few can match Vice President Joe Biden. Last week, he told a group of college students visiting the White House: "You're an incredible generation. And that's not hyperbole either. Your generation and the 9/11 generation before you are the most incredible group of Americans we have ever, ever, ever produced."

Here's a tip: When you hear Biden say, "And that's not hyperbole," you can be sure it's hyperbole. Actually, here's an even better tip: If Biden's lips are moving, assume it's hyperbole.
Goldberg's assessment that there is little that the Obama campaign can do to reinvigorate the under-30 electorate is matched by his impression that Romney, too, will be unable to attract young voters.
Goldberg's assertion seems based on the conventional wisdom that young voters will not be moved to the polls to vote for mild-mannered technocrat when just four years earlier they came out in enthusiastic droves for a veritable rock star. That may be true – it's an assumption many share. However, there are at least a few snippets of empirical data that disprove this assumption.
A Public Religion Research Institute and the Georgetown University's Berkley Center for Religion, Peace and World Affairs poll, showed Obama only holds a seven point lead over a generic Republican candidate. Three quarters of "Millennial" voters cited the economy as their chief electoral concern, and that poll showed strong movement away from Democratic to independent political affiliation.
In a February column in Forbes by Stephen Richer, president of RK Research, analysis the turnout from Florida's heavily contested Republican primary and concludes that voters aged 18 – 29 did turn out. What's more, they turned out for Romney.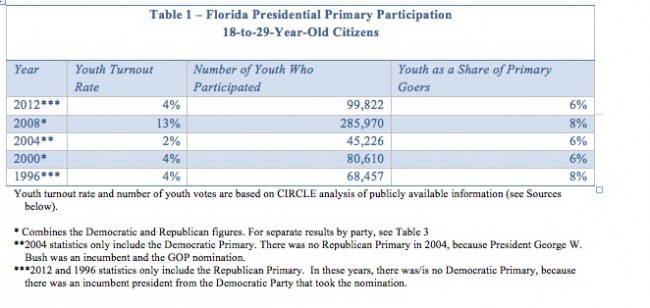 What Richer's research showed was that young voter turnout was proportional to presidential election years past and Romney nearly doubled the totals for the favorite candidate of the most passionate young voter, Texas Rep. Ron Paul (Romney won 41 percent to Paul's 25 percent of that demographic).
In attempting to draw conclusions about Florida to the general election, however, Richer claims that Romney's silence on divisive social issues that tend to turn off socially-progressive young voters aided him. Romney has since taken stands on many social issues more in tune with the values of traditional social conservatives.
Furthermore, the Washington Post fact-checker story from Wednesday critiquing a Crossroads Generation ad that targets young voters notes that, despite shockingly high unemployment among young adults, Obama's job approval among 18-29-year-olds has improved dramatically since 2011 across polls:
The analysis said that Obama's approval rating among this demographic had increased six percentage points since fall 2011 to reach 52 percent. In terms of the president's handling of the economy, the approval rate was 41 percent with this age group, representing a 9-percent improvement over the same time span.
But it's one thing to approve of the President, it is quite another to drag oneself to the polls to vote for him. So, if we assume that young voters are simply spent, unenthusiastic and tired of being pandered to – as Goldberg does – will young voters just stay home? It is quite possible.
What is clear is that the Obama campaign is pulling out nearly every stop to drive up enthusiasm among this demographic. Campaigns conduct their own polls, and they do not appear as comfortable with their support among young voters as much as the Post appears to be.
Watch the segment below via Fox News Channel:
Have a tip we should know? tips@mediaite.com