Joy Reid Hangs on to Show, Leaving Her Credibility in Tatters… And MSNBC's Eroded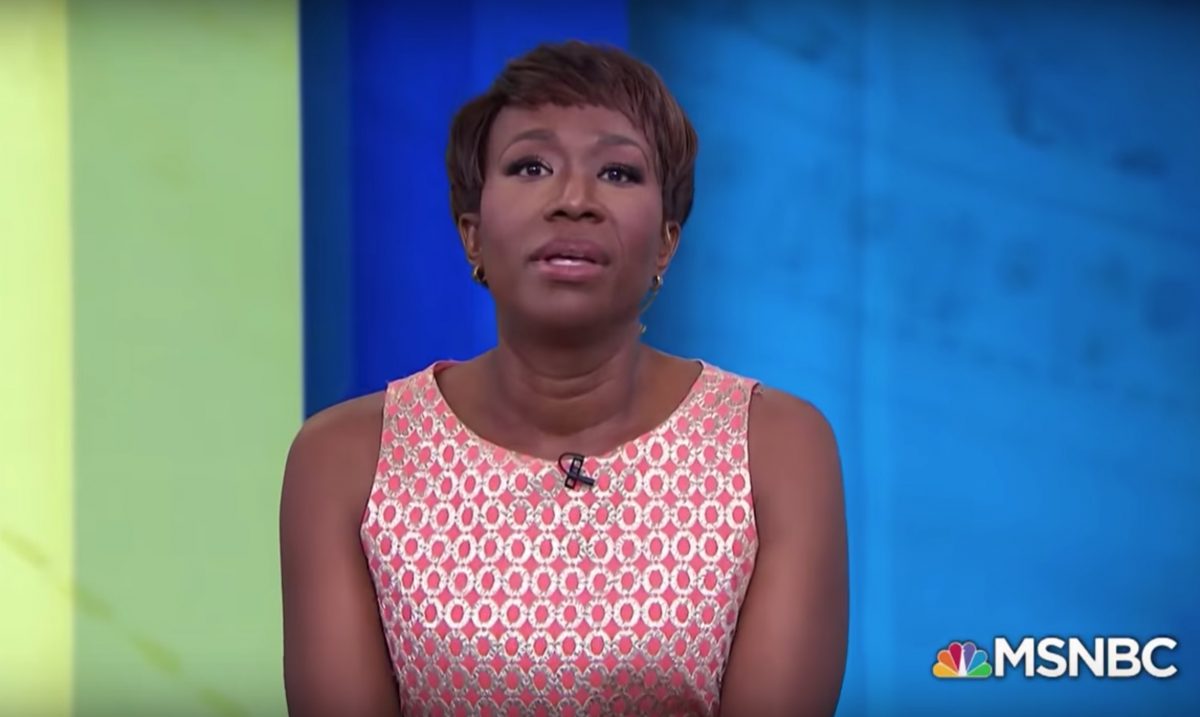 In case you were curious about Joy Reid's future at MSNBC, the network's PR team proudly touted the ratings 'win' of her weekend show in an email sent out Tuesday. A network spokesperson also told Mediaite that MSNBC's executives remain supportive of Reid, and her show will continue on its current schedule.
That's despite Reid's bizarre and nonsensical response on that very show this weekend to a trove of anti-gay posts that were unearthed from her now-shuttered blog The Reid Report, posts she initially claimed were fabricated and inserted into her website by a nefarious hacker who wanted to tarnish her reputation. And that's despite those hacking claims being presented without a shred of viable evidence.
When Mediaite first reached out to MSNBC for comment on a number of homophobic posts unearthed from Reid's blog, the network released a statement from Reid in which she claimed that an "external party accessed and manipulated material from my now-defunct blog, The Reid Report, to include offensive and hateful references that are fabricated and run counter to my personal beliefs and ideology."
"Now that the site has been compromised I can state unequivocally that it does not represent the original entries," she added, dumping mud into the waters.
While our requests for evidence to support these claims were met by the network with silence, NBC eventually circulated a statement from Reid's cybersecurity expert, a consultant named Jonathan Nichols. Also released was a letter from Reid's lawyer claiming the FBI was investigating the alleged hack.
The cybersecurity expert's statement was quickly called into question for the dubious nature of much of its claims. Shortly after its release, The Daily Beast — a website that employs Reid as a columnist — published its own thorough and damning investigation of the statement.
The investigation, carried out by cybersecurity reporter Kevin Poulsen, challenged Nichols to provide evidence to support his conclusion that Reid's blog was hacked, as well as claims some of the anti-gay posts circulating online were manipulated screenshots. Each piece of evidence he provided was examined and dismissed.
Eventually, Reid's lawyer conceded that the Internet Archive, a website which took contemporaneous screenshots of Reid's blog, was not hacked, as previously claimed.
"That means the supposed hacker was posting alongside Reid for years," Poulsen wrote. "That's an extraordinary claim, and so far the bits and pieces of evidence offered for it have not stood up to scrutiny when they've been specific enough to test."
Regardless, Reid's colleagues and a number of other members of the punditerati came to the MSNBC host's defense, avoiding her absurd hacking claims in favor of defending her against charges of homophobia.
CNN's Jeffrey Toobin tweeted that Reid is "an important and valuable voice, and I support her," while MSNBC's Craig Melvin chided those (e.g. no one) criticizing Reid for evolving on her views of homosexuality: "If you have never evolved on anything," he tweeted, "that's pretty sad."
As watered down as her colleagues' defenses were — which all involved some iteration of 'people change' or 'she's an important voice' — they also completely missed the point.
As did her mea culpa episode of AM Joy, in which she provided a convoluted explanation of how a bunch of homophobic posts ended up on her blog, failing to own up to the posts while not denying she had penned them:
I hired cybersecurity experts to see if somebody had manipulated my words or my former blog, and the reality is they have not been able to prove it.

I genuinely do not believe I wrote those hateful things because they are completely alien to me. But I can definitely understand, based on things I have tweeted and I have written in the past, why some people don't believe me.
Try to make sense of all that explanation. Here's the best I could come up with: she is making the case that because those posts differ so drastically from the views she holds today, she doesn't know how it is possible she wrote them — though it is entirely possible she did. Because of her disbelief, she hired a cybersecurity expert to prove she had not written them, but because she very well may have written them, he has yet to find any proof.
Reid did apologize for the transphobic tweets she lobbed at Ann Coulter, which she could not say were fabricated because they were still up on her Twitter as of last week.
"Those tweets were wrong and horrible," she said. "I'm heartbroken that I didn't do better back then."
After Reid's opener, she had on a panel of LGBT activists to "grill" her (they did not) on her homophobic views of the past.
Following Reid's panel, fellow MSNBC host Nicolle Wallace tweeted, "Everyone of us will walk in [Reid's] shoes some day – filled with remorse and regret over something we have said or done, but I predict that few will do so this eloquently."
But the spectacle was a straw man, and a glaringly cynical move by Reid and MSNBC at that: the outrage over the Reid affair has little to do with a series of embarrassing posts she wrote a decade ago reflecting beliefs she clearly no longer holds today. It has to do with the increasingly obvious impression that she has concocted an implausible hacking fable to avoid accountability for those old posts, and continues to lie by claiming she genuinely believes she was hacked despite the absurdity of the hacking claims and dearth of evidence supporting them. And she remains enabled by a news organization that ostensibly exists to report on facts.
Ultimately, the final and flimsy pillar of Reid's defense — and MSNBC's ostensible justification for keeping her at the network — is that her claims cannot be disproven. Even The Daily Beast's report, which easily dismissed every piece of evidence provided by her cybersecurity expert, was unable to conclusively prove that Reid's blog wasn't somehow hacked, or that she did not at least believe it was hacked.
As such, MSNBC awaits the FBI's findings. Until then, as farcical as the evidence provided thus far is, no one can definitively prove Reid was not somehow hacked. Even if the FBI determines Reid's blog was not breached, MSNBC can rely on her comments that she believed it was hacked as well as her expression of remorse over her past views as an justification for keeping her on the air. That's buttressed by the support offered by her high-profile colleagues at MSNBC, something the network is clearly keeping a close eye on.
So she may very well survive, but there's one crucial principle that she and MSNBC have sacrificed in keeping AM Joy on the air, and that's credibility.
Just imagine I wrote a post on Mediaite denying that I had ever written a story for the publication. And then when a mob of aggrieved commenters informed me that I had in fact written many, I doubled down. And when the aggrieved commenters proceeded to send me thousands of links to articles under my byline, I conceded that I truly believed I had never written a story for Mediaite — and was requesting the FBI to launch a full investigation into the matter.
Now, there would be no way for the aggrieved commenters to prove that I didn't truly believe I had never written a story for this website, and not much place to argue from there. What I would expect, however, is for no one to ever read another one of my posts again, and for all to seriously doubt the credibility of Mediaite.
That is what the Reid saga has done to MSNBC. So long as the network continues to allow Reid to hawk her ludicrous hacking tale, to distort criticism of her claims into some straw man about her past views on gay rights, the credibility of the network suffers. I have no doubt that she will also continue her crusade to hold others to a standard of truth she apparently doesn't adhere to herself. But the damage being done by this farce extends well beyond this one host. The network's enabling of Reid corrodes not only its own reputation, but undermines trust in members of the press actually working to seek out truth.
—
Aidan McLaughlin is the Managing Editor of Mediaite. Follow him on Twitter.
This is an opinion piece. The views expressed in this article are those of just the author.
Aidan McLaughlin - Editor in Chief