Juan Williams Battles Hannity: Black Panthers At A Polling Place Is Not The Same As Being Denied Voting Rights!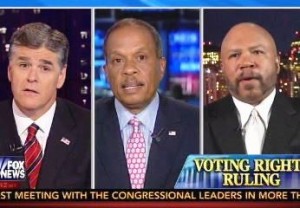 Sean Hannity tonight covered the Supreme Court striking down a provision of the Voting Rights Act on the conclusion that the coverage formula in the act is too old and outdated, and Congress will have to revisit that at some point. Hannity and Erik Rush agreed with the court's decision, but Juan Williams argued the data is still relevant and important for current-day voting rights battles. But the skirmish over the ruling took a turn when Hannity brought up the few times Black Panthers have been seen outside polling places, which Williams dismissed as a ridiculous comparison.
RELATED: The Five Hosts Clash With Beckel On Voting Rights: Supreme Court Has 'Gutted' Civil Rights And It's 'Just Wrong'
Williams disagreed with the majority's assessment that the data in the Voting Rights Act is outdated, saying that very recently the Department of Justice used the VRA to go after Texas for gerrymandering districts so that Latinos were underrepresented. He slammed gerrymandering as a partisan practice "to keep the powerful in power in elected office."
Rush remarked that the Obama administration is naturally going to frown on anything that strips the federal government of any power over the states. He said the states can now effectively crack down on voter fraud. Hannity brought up the one instance of a Black Panther at a polling place a few years ago, which caused Williams to crack a smile and explain it's not the same as people "being denied the right to vote." Hannity argued that since President Obama wouldn't have been elected president if he ran in the 1960s, that's proof that the nation has grown up since then and the data used by the Voting Rights Act is outdated.
Williams maintained that contrary to the majority opinion, and shot back at Hannity bringing up the New Black Panthers again by shouting, "It was one guy!" Hannity sarcastically asked if, then, it's okay for Black Panthers to just stand in front of polling places with batons. Rush dismissed the idea of "pointing to the egregiousness of the past" to justify taking actions in the present, adding that there's a bigger problem with dead voters. Williams concluded the segment by pointing out Republicans in Congress overwhelmingly disagreed with the Supreme Court the last time the VRA was voted on. Hannity suggested, "They might have been playing politics too."
Watch the video below, courtesy of Fox News:
—–
Follow Josh Feldman on Twitter: @feldmaniac
Have a tip we should know? tips@mediaite.com
Josh Feldman - Senior Editor