Juan Williams: Jon Stewart Is 'A Nut' If He Can't See Bias In The Mainstream Media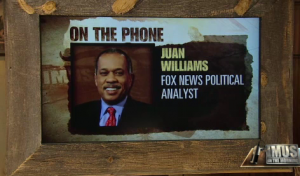 Fox News' Juan Williams spoke with Don Imus this morning and weighed in on the "fascinating" conversation between Jon Stewart and Chris Wallace over the weekend. Unlike some liberals who were laughing at Wallace, Williams unsurprisingly supported his Fox News colleague and targeted Stewart with some constructive criticism.
Williams thought Stewart was a great comedian and was impressed with his honesty during the interview when he admitted that he's just trying to make money as a successful entertainer and not trying to be a political player. Yet Williams thought Stewart's claim about biased media organizations was laughable:
"Stewart seemed absolutely blind to the idea that there's any bias outside of Fox News. I thought he's a nut. I mean how could you not see the bias that's so evident in places like NBC or ABC or – you know, I mean – some of these recent hires especially in the big networks as we approach the election. I don't think there's any question about it."
Imus thought Stewart was a brilliant performer, but he also had a critique, saying "I don't think [Stewart's] being honest about not owning up to being an ideological activist – he is." With so many media personalities now having shared their thoughts, might this officially be the last word on the Stewart/Wallace showdown? Although since Wallace himself has been silent since the interview, it seems there is at least one more interesting perspective to hear.
Watch the clip from Fox Business below:
Have a tip we should know? [email protected]