Julian Assange Hits Back at 'Constant Lying' and 'Cold Creepiness' of Hillary Clinton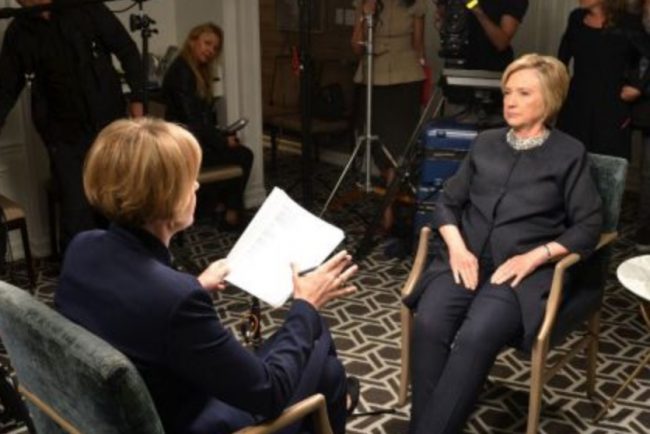 Hillary Clinton's press tour promoting her new book What Happpened appears to now be in its international phase of interviews and appearances. This weekend saw her discuss with Channel 4's Matt Frei the alleged sexual assaults of President Donald Trump (which she said he had admitted to) and today we see she recently sat down with Australia's Sarah Ferguson, host of news program Four Corners.
One of the most newsworthy moments of that interview to emerge is Secretary Clinton's dismissal of WikiLeaks founder Julian Assange. Clinton offered a remarkably unsparing description of Assange, saying that he played a key role in undermining her recent run for president by colluding with Vladimir Putin and, quite possibly, the Trump campaign.
There's something wrong with Hillary Clinton. It is not just her constant lying. It is not just that she throws off menacing glares and seethes thwarted entitlement. Watch closely. Something much darker rides along with it. A cold creepiness rarely seen. https://t.co/JNw2dkXgdu

— Julian Assange ? (@JulianAssange) October 15, 2017
He then later tweeted a deeper explanation of timing meant to ostensibly exonerate him from her allegations of collusion:
On Clinton's "timing" conspiracy theory. That we had a pending publication about to launch on the election was everywhere in the media for days. We were meant to launch that morning. It is the Trump tape that was moved forward from Monday to Friday. https://t.co/Mo6PbJoTpV

— Julian Assange ? (@JulianAssange) October 16, 2017
All of this renewed talk and speculation of Russian interference comes at an interesting time. Special Counsel Robert Mueller has broadened his investigation to recently include former White House Chief of Staff Reince Priebus, and the investigation has been remarkably buttoned up (for example, news of an early-morning raid of Paul Manfort's home did not break for 10 days after.)
In a recent post, Harvard Law professor Lawrence Lessig recently opened a thought exercise by claiming "There's a bunch of chatter about imminent action by the special prosecutor. Some of that chatter suggests evidence of a real tie with Russia during the election. By "real tie" I mean more than that the Russians tried to help. A "real tie" would be real evidence of a conspiracy between the Trump campaign and Russia."
Perhaps the timing of Assange and Clinton's active discussion of Russian Collusion with the 2016 General Election is rooted on pending news. Or perhaps these are the words of competing narcissists who each need media attention and, like pro wrestlers, realize they each need a villain to make the other look good. Time will tell.
Have a tip we should know? [email protected]