Kirk Cameron Shocks Piers Morgan: Homosexuality Is 'Unnatural' And 'Destructive To… Civilization'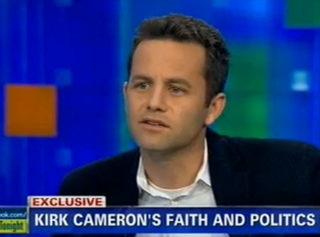 Former teen heartthrob turned conservative opinionator Kirk Cameron visited Piers Morgan earlier in the week and talked faith and politics, though Morgan had to work to get some answers. When he did get answers on social issues, however, Cameron's declaration that homosexuality was "ultimately destructive to so many foundations of civilization" left him somewhat shocked.
RELATED: George Takei And Donald Trump Will Meet For Lunch Summit On Marriage Equality In April
Cameron noted that he watched many people on cable news "to try to give me a clear picture to know as a father what to teach our kids," and to that end, Morgan started quizzing him on social issues. "I feel like I just got imported into the Christine O'Donnell interview you did in August," he replied, clearly uncomfortable, but eased up when Morgan explained that his question stemmed from a desire to know him as a father better. So he gave his position on gay marriage.
"Marriage was designed by God a long time ago… it's almost as old as dirt. I would never attempt to redefine marriage." When asked if he considered homosexuality a sin, he answered, "I think its unnatural, I think it's detrimental and ultimately destructive to so many foundations of civilization." Morgan didn't question it, but followed up asking what Cameron would do if his child were gay. "Just because you feel that way doesn't mean you have to act on everything you feel," he told Morgan. He footnoted his statements with the fact that "I believe all of us are sinful," so the word meant only a human status. Morgan asked him also about abortion, which Cameron opposed in all circumstances, even in rape, saying that killing "a little creature made in God's image" would be "compounding the problem."
Cameron's comments on homosexuality offended many, including GLAAD, which issued a statement and has put together a petition against Cameron:
"In this interview, Kirk Cameron sounds even more dated than his 1980s TV character," said Herndon Graddick, Senior Director of Programs at GLAAD. "Cameron is out of step with a growing majority of Americans, particularly people of faith who believe that their gay and lesbian brothers and sisters should be loved and accepted based on their character and not condemned because of their sexual orientation."
Watch the segment via CNN below:

Have a tip we should know? tips@mediaite.com