(Updated) John Edwards Asks Judge Not To Destroy His Sex Tape With Rielle Hunter…Or Not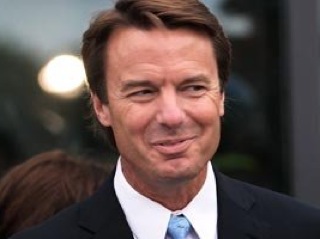 The fabled sex tape between former Democratic Vice Presidential candidate John Edwards and his lover Rielle Hunter has finally returned to Hunter's possession, where it was slated to be destroyed. Edwards' attorney, however, has asked a judge to intervene and save the tape, requesting an injunction on the matter.
RELATED: Erin Burnett Guest On John Edwards' 'Mystery Illness': 'I'm Betting He's Not Getting A Vasectomy'
The tape was in the possession of former Edwards operative Andrew Young until Hunter took legal action to get it back. The tape was lost in an apartment she once rented from which Young took several items including the tape. According to Fox News, Edwards is now taking legal action to stop the destruction of any of that property:
John Edwards has asked a judge not to destroy a sex tape he made with his former mistress Rielle Hunter that was slated for destruction under a settlement reached last week, WRAL-TV reported.

A request filed Friday in US District Court in Greensboro said Edwards "intends to request, by subpoena or other procedure, certain materials covered" by provisions of the injunction.

Edwards asked the court to enforce an automatic stay "with respect to any transfer or destruction of items" until the request can be made.
The Edward corruption trial is slated to begin soon. The report does not say why Edwards was chosen to have his counsel request a stay on the decision to destroy the property.
Update from WRAL:
GREENSBORO, N.C. — Editor's Note: WRAL News initially interpreted court documents incorrectly and reported that John Edwards asked for a delay in the court-ordered destruction of a sex tape he made with Rielle Hunter. In the order returning the tape and other items to Hunter, Judge Carl R. Fox allowed Edwards or other parties to delay that destruction, but specifically exempted the tape from any stay.
Read more here at TalkLeft about this correction
Editor's note: This post has been edited since it's original posting – Jon Nicosia
Have a tip we should know? tips@mediaite.com