Kirsten Powers Confronts O'Reilly Over Shoutfest With Colmes: 'Bill, You Are A Hundred Percent Wrong'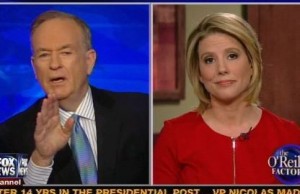 Kirsten Powers sat down with Bill O'Reilly tonight clearly prepared to rebut him over allegations he made during his shouting match with Alan Colmes last night over whether or not President Obama has offered any specific spending cuts. Powers had in her hand a document from the White House website showing Obama had proposed specific Medicare cuts, and despite O'Reilly's protestations, she told him, "Bill, you are a hundred percent wrong."
RELATED: The Five Hosts Defend O'Reilly's Explosion Over Spending: 'Good For Bill!'
Powers told O'Reilly she was "shocked" he is doubling down on his claims, referring to a document she printed out detailing $400 billion in cuts President Obama proposed for federal health care spending. O'Reilly told her to slow down, referred to himself as a "simple man," and asked her specifically what Obama would cut, to which Powers called O'Reilly out for trying to change his argument.
"This is what you do, you change the discussion. What so said last night was the president… did not propose anything. The president proposed this to the Republicans. The Republicans circulated this plan. They know about the plan. There was also chained CPI in there, which I know you're not too simple to not know about chained CPI."
Powers told O'Reilly he is "a hundred percent wrong" and told him he needs to admit it instead of digging himself in a deeper hole. They continued to clash over the particulars, with Powers insisting that Obama has offered spending cuts. When O'Reilly said, "this is where you and I will never agree," Powers shot back, "Because I use facts?"
O'Reilly ended the interview insisting Powers had provided zero new specifics. For what it's worth, following her appearance, Powers tweeted out a link to the PDF she held up on the air.
Watch the video below, courtesy of Fox News:
—–
Follow Josh Feldman on Twitter: @feldmaniac
Have a tip we should know? tips@mediaite.com
Josh Feldman - Senior Editor