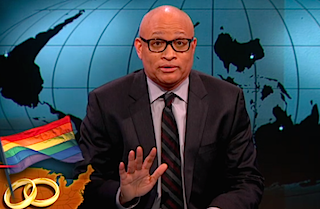 Last night's episode of The Nightly Show was all about the state of gay marriage. And during his opening monologue, Larry Wilmore admitted he's a little "jealous" of all the progress the marriage equality movement has made in just a few short years.
"I'm sorry guys, I've been so involved with my blackity-black black stuff, I've just been slacking on my gayety-gay gay," Wilmore apologized at the top of the show. After noting that same-sex marriage is now legal in 36 states, the host said, "I am really happy for you, gay people, but I gotta say, it's a little fast."
"I'm not hating," Wilmore continued. "But maybe I'm just a little jealous." While black people spent hundreds of years "fighting for every single civil right," just now arriving at the whole "please don't shoot us thing," Wilmore pointed out that the first state to legalize gay marriage came in 2004 and 11 years later, "you're pretty much done!"
But once he started looking at states like Texas and Alabama, he realized the country hasn't quite reached marriage equality yet. For historical context, he looked back at "reformed racist Alabama governor" George Wallace. If he could change, anyone can change.
"The struggle for black civil rights is not quite the same as the struggle for gay civil rights," Wilmore concluded. "But I think we can agree that in both struggles, there's been plenty of sinister bullshit from the other side to try to keep the tide from rolling forward."
Watch video below, via Comedy Central:
[Photo via screengrab]
— —
>> Follow Matt Wilstein (@TheMattWilstein) on Twitter
Have a tip we should know? tips@mediaite.com