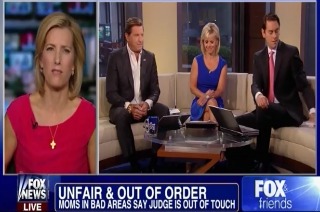 On Tuesday, Laura Ingraham, a conservative radio host and Fox News contributor, lambasted Judge Shira A. Scheindlin for her ruling last week that New York City's controversial "Stop-and-Frisk" policy must be halted. Ingraham and the hosts of Fox & Friends said that this judge's "utopian" worldview would change if she lived in a high-crime area of New York City.

Ingraham began by warning that the ruling ensures that police are less thorough in their policing and will be "demonized" in the community. She added that the ruling is yet another reason why Republican presidential candidates need to talk about how important courts are, as Scheindlin was a justice appointed by former President Bill Clinton.
Gretchen Carlson noted that the people who live in the high-crime areas where police are primarily employing "Stop-and-Frisk" are supportive of the policy.
"The judge should move into Bed-Stuy or up in some of the difficult areas of Staten Island where – this has saved lives, this policy," Ingraham said.
RELATED: CNN Panel Fights over Stop and Frisk: Violence Happening in 'Predominantly Black Areas'
Clayton Morris observed that the judge lives in an area with dramatically lower crimes statistics than the city average. "That's convenient," Ingraham noted.
This is typical evolving standards of the Constitution jurisprudence that conservatives have been talking about for decades," Ingraham added. "Where a judge substitutes her on view of the world, her own utopian view of how the world should be for the way the real life is — for the people who are trying to get by, not get killed, not get robbed, not get raped on the streets of New York."
"James Madison is rolling in his grave right now," Ingraham added after claiming that there was nothing that violated the 4th Amendment to the Constitution in the policy of "Stop-and-Frisk."
Watch the clip below via Fox News Channel:
> >Follow Noah Rothman (@NoahCRothman) on Twitter
Have a tip we should know? tips@mediaite.com