Laura Ingraham Chides Obama, 'Other Cable Channels' More Concerned About Islamophobia Than Preventing Attacks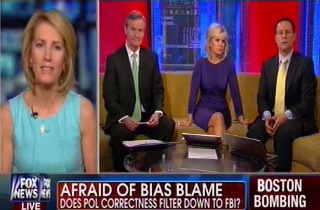 On Tuesday morning's Fox & Friends, conservative radio host Laura Ingraham tore into President Barack Obama's politically correct handling of the global war on terror. She said that the attacks in Boston and the foiled "Al Qaeda-supported" terror plot to blow up train lines between New York City and Toronto, Canada, suggest that the administration's strategy of seeking to avoid offending Islamic sensibilities has not been successful and may have hindered the effective prosecution of the war on terror.

Gretchen Carlson played a clip of Fox News Channel political analyst Brit Hume last night dissecting the conditions which lead to the thwarting of the terror plot against rail targets.
Hume wondered if the administration's instinct to call Maj. Nidal Hasan's attack on Ft. Hood "workplace violence" is indicative of a culture of complacency against terrorism in other federal agencies. "You gotta tread carefully where Muslims are concerned, lest you be accused of some kind of anti-Muslim bias," Hume added.
RELATED: Canada Disrupts 'Major Terrorist Attack' With A Series Of Arrests
Carlson asked Ingraham if she thought "political correctness" led to the failures of intelligence in Boston and the near-miss in Canada "like people say about Ft. Hood?"
"We hear, and have heard over the last, really, 10 years since 9/11, an overriding concern about Islamophobia here in the United State," Ingraham said. "We have other cable channels doing huge specials on Islamophobia. So, I think, ingrained in this administration is a concern about overstepping when it comes to Muslim Americans."
Ingraham said that, in the wake of 9/11, America gave asylum to many people fleeing places like Chechnya. She said that that also raised concerns about how the United States approaches the war on terror.
Watch the clip below via Fox News Channel:
> >Follow Noah Rothman (@NoahCRothman) on Twitter
Have a tip we should know? tips@mediaite.com