Laura Ingraham Confronts Marco Rubio Over Immigration Reform: 'Stop Dividing The Republican Party'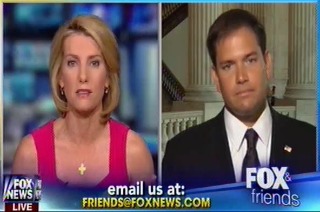 During a segment on Fox & Friends on Tuesday, Sen. Marco Rubio (R-FL) joined conservative radio host Laura Ingraham to discuss the scandals surrounding the IRS and the Department of Justice. The conversation quickly turned to Rubio's efforts to reform the immigration system where Ingraham and Rubio found themselves on opposing sides of that issue. Ingraham implored the junior senator from Florida to drop immigration reform, stop "dividing the Republican Party," and focus on Americans' true priorities.

Asked if the immigration bill would have the 60 votes necessary to move from the Senate to the House, Rubio flatly replied "no."
"I think even the Democrats would concede that," he added. Rubio attributed the lack of progress on a comprehensive immigration bill to Americans' lack of confidence in the federal government to enforce the law. "People don't trust the Department of Homeland Security to do the job or to come up with a plan that will do the job," he asserted.
"This is nowhere near being done," Rubio declared.
"Why did you vote for it out of committee?" Brian Kilmeade asked. Rubio said that he was not on the committee, but he worked on the drafting of the law.
RELATED: Ted Cruz Warns Eric Bolling: IRS Creating Massive Health Database, Obama Setting Up Immigration To Fail
"If you were in charge of enforcing the border, I wouldn't worry about it at all," Ingraham interjected.
"People, you're right, have no faith in this border actually being enforced. They know that when [Sens.] Chuck Schumer (D-NY), Dick Durbin (D-IL), and Bob Menendez (D-NJ) are giddy over the passage of a bill, Republicans, conservatives most people in the middle class who are seeing their wages stagnate or go down, have something to worry about," Ingraham insisted.
She noted that her radio audience wants the Senate to stop "dividing the Republican Party" on the issue of immigration and stick to focusing on augmenting the economic recovery.
Rubio insisted that immigration reform is related to the economic recovery because immigration is an economic issue.
"Then do that separately," Ingraham interjected.
"The problem is that they're all interrelated," Rubio countered. He said that one of the drivers of illegal immigration is a failed guest worker program for agricultural workers.
"Not a top priority for this country," Ingraham shot back.
Watch the clip below via Fox News Channel:
> >Follow Noah Rothman (@NoahCRothman) on Twitter
Have a tip we should know? tips@mediaite.com