Laura Ingraham Fired Up Over Romney's 47% Tape: 'It's Ridiculous' This Is Getting Airtime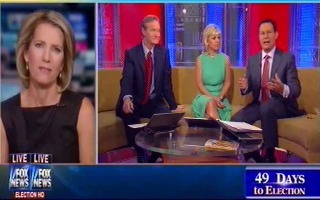 Conservative radio host Laura Ingraham appeared on Fox & Friends on Tuesday where she went off on a recently released hidden camera tape of Mitt Romney at a closed door fundraiser telling his donors that 47 percent of the electorate is unavailable to him because they are dependent on government and loyal to President Barack Obama. Ingraham became animated in a discussion about the tape, and said that it was "ridiculous" that it was getting as much airtime as it was, even on Fox News.

RELATED: Mitt Romney Holds Shotgun Presser On Hidden Video: 47% Remarks 'Not Elegantly Stated'
After Brian Kilmeade played a portion of the clip to Ingraham, Steve Doocy asked, "So, what did he say that's wrong?"
"The percentage might be off by one or two percentage points depending on how you formulate it," Ingraham replied. "The bottom line is Mitt Romney speaking at a fundraiser about the challenges a Republican faces in this presidential race – not all that unlike what political pundits, many of them hyperventilating today, have said. That there is a small slice of the electorate that is undecided. That's basically what he said there."
"The idea that you're declaring, 'Well, the race is over. Mitt Romney doesn't care about people,'" Ingraham continued. "Meanwhile, you have a president whose policies have undermined the 47 percent."
Ingraham slammed the media for glossing over President Obama's fundraising and campaigning schedule which includes stops with Beyoncé, Jay-Z, Rachael Ray and not having a problem with it. "The policies of this president have hurt the 47 percent," Ingraham said.
Gretchen Carlson said that it was not Romney's math but his quote, "I don't have to worry about those people," that is going to become a persistent problem for him.
Ingraham replied that Romney had to push forward with his insistence that his policies will lift all boats. She conceded that the Obama campaign and the press would use that line against Romney, but he could overcome it by insisting that his plan would raise people out of the 47 percent.
"You seem very fired up today," Carlson noticed.
"I am," Ingraham replied. "I'm very pumped up about this. I think it's ridiculous that people are seizing on it and that we're even giving all that much airtime to it, frankly"
Ingraham went on to say that she warned that if Romney did not come out of the conventions with a lead, he would be subject to attacks on his wealth and outlook.
Watch the clip below via Fox News Channel:
> >Follow Noah Rothman (@Noah_C_Rothman) on Twitter
Have a tip we should know? tips@mediaite.com