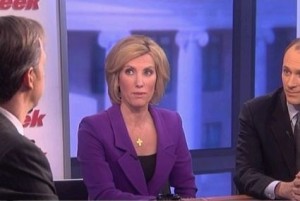 The newest story out of the Republican primary race for the presidency is that a civil war has broken out between establishment Republicans who favor Mitt Romney and conservative activists who are lining up behind Newt Gingrich. One of the most powerful lines of attack against Gingrich is that he's unelectable against President Obama, but there are doubts among Republicans and conservatives that Romney is that much more electable in the general election.
RELATED: Juan Williams: Don't Blame Mainstream Media When GOP Has 'Mediocre Field'
Austan Goolsbee contrasted Romney's campaign strategy with how Hillary Clinton ran in 2008, including the fact that the Clintons released years and years of tax returns compared to Romney's release of the past two. However, Laura Ingraham pointed to a challenge Romney faces that has not been brought up that much in the media: Mitt Romney might be able to do well against Newt Gingrich, whose campaign has vastly limited resources, but he might not end up doing as well against Obama, who has amassed a large campaign war chest.
Ingraham then made an uncomfortable confession, a realization she came to while speaking with other Republicans after watching Obama speak at the Alfalfa Club last night.
"A bunch of us sitting next to each other, prominent conservatives, former Bush Cabinet members, we're looking at each other going, 'I don't know if Mitt Romney can beat him.' He's got to bring his A-game, and he can't just be, you know, the kind of thing he's doing with Gingrich, because Obama's operation is really smart. I think they're going to run a tough campaign."
RELATED: Bill Maher Says President Obama Will Beat Romney 'Like a Runaway Sister Wife'
Jake Tapper brought up comments Romney made on Ingraham's radio show that the economy is doing better and he's not going to say otherwise for the sake of beating Obama because "it happens to be the truth." Ingraham thought this made things much harder for Romney, because if the economy's getting better under Obama, he's going to need to make a very strong case that the American people should hand it over to him.
Watch the video below, courtesy of ABC:
Have a tip we should know? tips@mediaite.com
Josh Feldman - Senior Editor