Lawrence O'Donnell: Obama Administration Divided Over How To Deal With Egypt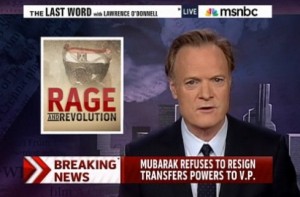 What to do with Egypt? This is the ridiculously oversimplified question of a very complex situation that's on the minds of many in and around the White House right now. But according to MSNBC's Lawrence O'Donnell and his guest Chris Hayes, the answer to that question appears to be split between two significant camps. Sec. of State Hillary Clinton and Defense Secretary Bob Gates are supporting a slow and steady approach, while Obama's national security advisers believe its time to support the people behind the regime change.
O'Donnell set-up the complicated conundrum facing the White House in simple yet dramatic terms:
Tonight as the protesters in Tahrir Square demand revolutionary change from their government, another argument is taking place inside the Obama administration as it struggles with its message on Egypt. In one camp, say some reports, Secretary of State Hillary Clinton and Defense Decretary Robert Gates are turned — concerned with regional stable and are pushing for a process led by Egypt's Vice President, Omar Suleiman. In the other camp, younger voices from Obama's presidential campaign including national security council staff members Ben Rhodes and Samantha Power have been arguing that Mubarak's regime is finished and it's time to fully support the protesters. Rhodes wrote President Obama's "a new beginning," that called for democratic reforms in the Arab world.
Hayes went into great detail in describing the rift between the President's advisers on foreign policy, a group of bureaucrats who have not been having their best moment in the past few days (best evidenced by the embarrassing reports by CIA Chief Leon Panetta
and National Intelligence Director James Clapper yesterday.
Watch the segment from MSNBC below:
Have a tip we should know? tips@mediaite.com