Lawrence O'Donnell Plays Montage Of Presidents On Late Night To Silence Conservatives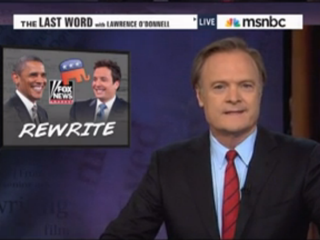 The crew over at Fox News have not, for most of the day, taken particularly well to President Obama's appearance on Late Night with Jimmy Fallon last night– nor have many conservatives. On The Last Word tonight, Lawrence O'Donnell expressed no surprise at this line of attack, but some dismay at how it was not blindingly obvious to many arguing against the appearance that so much precedent corroborated its legitimacy– from Ronald Reagan on Dean Martin's Celebrity Roasts to Richard Nixon hitting up Rowan & Martin's Laugh-In.

RELATED: Gretchen Carlson On Obama's Late Night Appearance: 'I Think It's Nutso,' 'Lowers Status Of The Office'
"Of course Rush Limbaugh was outraged," O'Donnell noted with no surprise. "Drug addict Rush Limbaugh always finds his own angle on Obama hate," he concluded, but thought him marginal in outrage compared to Fox News, where "on the Fox News comedy shows, there was relentless outrage." He played then clips of Fox & Friends and The Five going after the President for seeming less professional for going on a late-night show. And in an extremely rare move, O'Donnell had to stop and give Sean Hannity some praise, for going out of his way to say he didn't care if the President was on late night TV. But "for everyone else it was outrageous and undignified."
"They clearly want their audience to believe that there is no precedent in our history for what Barack Obama does," O'Donnell concluded, before playing a montage of Presidents on late-night TV, beginning with President Nixon.
The segment via MSNBC below:

Have a tip we should know? tips@mediaite.com